Undergraduate Research Conference
The Georgetown University Undergraduate Research Conference offers an opportunity for undergraduate students to present their research efforts.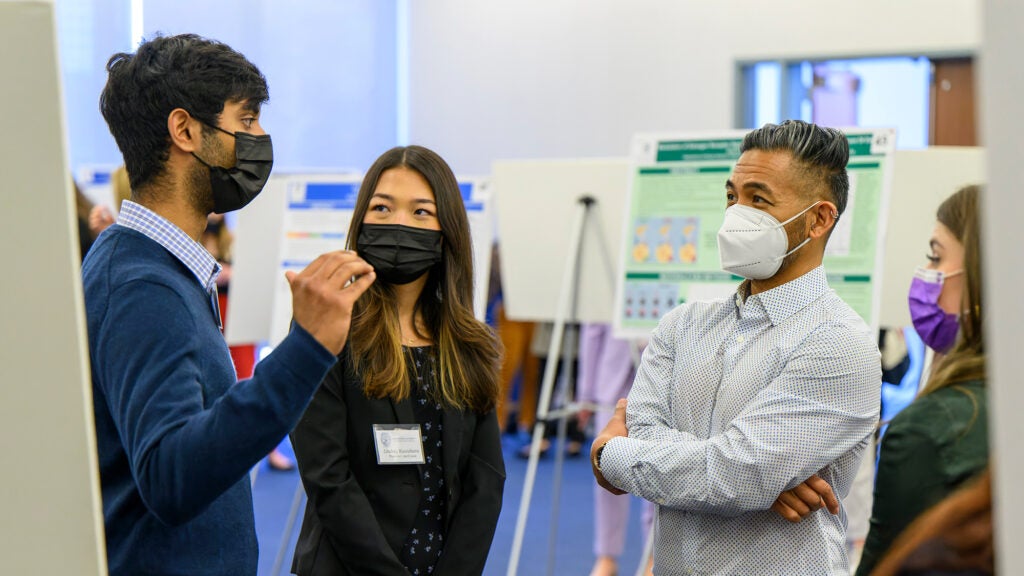 Founded within the Department of Human Science, the first conference was held in 2003. Since then, a cumulative total of about 960 student posters have been presented.
The conference focuses on medical and health-related research, inviting applicants from all health- and science-related disciplines. Participation is open to any undergraduate student. All undergraduate participants present posters during a poster viewing session. From the pool of submitted posters, the Student Planning Committee selects some students, in advance, to also deliver oral presentations. These individuals are notified prior to the conference.
2023 Undergraduate Research Conference
The 2023 Georgetown Undergraduate Research Conference for science and health-related research will be on Wednesday, April 19, 2023, at the Healey Family Student Center. Visit the GU Event page or the Undergraduate Research Conference Facebook page to learn more.
Important Dates
Application Release Date: Friday, Feb. 17
Application Due Date: Friday, March 17 by 11:59 p.m.
Poster Due Date: Tuesday, April 4 by 11:59 p.m.
Please email georgetownurc@georgetown.edu with any questions.
Student Planning Committee
The conference is organized by the Student Planning Committee, a small group of dedicated undergraduates who are committed to enhancing undergraduate participation in research.
Conference Awards
The Student Planning Committee of the Undergraduate Research Conference has named awards in honor of faculty members who have been instrumental in the conference's success.
In 2009, the committee named several awards given at the Undergraduate Research Conference after Charles H. Evans, Jr., MD, PhD.
Evans, who founded the conference in 2003, served as its faculty advisor until 2009, when he retired from his position as chair of the Human Science Department.
The following year, the committee named a special mentorship award for faculty after Allan Angerio, PhD, associate professor of human science emeritus who retired in 2010 after 38 years on Georgetown University's faculty.  Angerio taught and mentored thousands of undergraduate students during his career.
Past Conferences
2022
Read about the 2022 Conference in this news story.
The keynote address was presented by Eve De Rosa, PhD, associate professor of psychology and dean of faculty at Cornell University. Her talk addressed "Connections to the Heart and Mind in Healthy Aging."
Of the 60 posters presented, five students were awarded Excellence in Poster Presentation: Elena Evans (NHS'22), Annalisa Ginocchi (NHS'22), Elizabeth "Lizzie" Graham (H'23), Finn Thompson (C'22), and Candice Powers (C'22). Aleksandra Swiatek (H'23) was awarded Best Overall Poster Presentation. Roma Dhingra (C'24) was given the Rising Researcher Award, which is provided to the best poster presentation by a first year or sophomore.
Excellence in Oral Presentation: Aleksandra Swiatek (H'23) and Katherine Monogue-Rines (NHS'22); and Best Overall Oral Presentation: Chloe Kekedjian (C'22).
Additionally, Dr. Debbie Barrington, assistant professor of human science, received an award recognizing excellence in faculty mentorship.
2021
Student awardees include: Best Poster Presentation: Ian Yannuzzi (C'21) and Best Oral Presentation: Anna Gorsky (C'21).
Excellence in Poster Presentation: Sophia Dahmani (NHS'21), Talya Inbar (C'21), Catherine Dunn (C'21), Ethan Missigman (C'21), Andrew Tiu (NHS'21), Anna Schildmeyer (NHS'21)

Excellence in Oral Presentation: Sam Wakelin (C'21), Georgia Payne (C'21) and Rising Researcher Award: Christi Anne Ng (C'21)

Additionally, Dr. Blythe Shepard, the Dekkers Endowed Chair in Human Science and assistant professor, received an award recognizing excellence in faculty mentorship.

The best poster and oral presentation awards are named for conference founder Dr. Charles H. Evans Jr. and the faculty mentorship award for longtime professor Dr. Allan Angerio. 
2018
Faculty Mentorship: Ted Nelson, PhD
Best Oral Presentation: Danielle Zamalin (NHS'18)
Best Poster Presentation: Larissa Wietlisbach (NHS'18)
Rising Researcher: Alexander Lekan (C'20)
Excellence in Poster Presentation:

Jasmina Abdalla (GWU'19)
Lindsay Caprio (NHS'19)
Taylor Franklin (NHS'18)
Noori Srivastava (NHS'18)
Margaret Steiner (GWU'20)
Eibhlin Goggins (C'18)
Nicole Mansour (NHS'18)
Liam Spurr (GWU'18)
Danielle Zamalin (NHS'18)
2017
Faculty Mentorship: Joan Burggraf Riley, MS, MSN, RN, FNP-BC, FAAN
Best Oral Presentation: Kevin Martin (C'17)
Best Poster Presentation: Aamir Javaid (C'17)
Rising Researcher: Lindsay Caprio (NHS'19)
Excellence in Poster Presentation

Kayla Schmittau (NHS'17)
Vinodh Balendran (C'17)
Sarah Berg (NHS'17)
Jacqueline Kimmell (C'17)
Emma Spikol (C'17)
Noori Srivastava (NHS'18)
Marissa Stepler (C'17)
2016
Faculty Mentorship: Jan LaRocque, PhD
Best Oral Presentation: Seamus Caragher (C'16)
Best Poster Presentation: Bassel Zein (C'16)
Rising Researcher: Larissa Wietlisbach (NHS'18)
Excellence in Oral Presentation:

Cindy Chen (JHU'16)
Alisha Dua (C'16)

Excellence in Poster Presentation

Saumya Bollam (C'16)
Jefferson Haake (NHS'16)
Nancy Mack (JMU'17)
Andreas Seas (UMD'17)
John Treado (C'16)
Breanna Walsh (C'17)
2015
Excellence in Faculty Mentorship: Ronit Yarden, PhD, assistant professor of human science
Best Post Presentation: Yuhao (Tom) Shi (NHS'15), a human science major
Best Oral Presentation: Victor Wang (NHS'15), a human science major
First Runner-Up Poster: DongEun Heo (C'15), a biology major
Second Runner-Up Poster: Emma Spikol (C'17), a biology major
2014
Excellence in Faculty Mentorship: Jason Tilan, PhD, assistant professor of nursing and human science
Best Poster Presentation: Jennifer Purks (C'14), a biology of global health major
Best Oral Presentation: Christopher Griffey (C'14), a neurobiology major
First Runner-Up Poster: Victor Wang (NHS'15), a human science major
Second Runner-Up Poster: Meredith Horton (NHS'14), a human science major
2013
Excellence in Faculty Mentorship: Heidi G. Elmendorf, PhD, associate professor of biology
Best Poster Presentation: Samuel Dowling (C'13), a biology of global health major
Best Oral Presentation: Wardah Athar (C'13), a neurobiology major
First Runner-Up Poster: Leighton Daign (C'13), a biology major
Second Runner-Up Poster: Marie-Sophie van der Goes (C'13), a neurobiology major