Discovery Center
The Discovery Center is a dynamic classroom and laboratory facility within the School of Health.
The Discovery Center is a dynamic classroom and laboratory facility for students in the School of Health with a particular focus on the activity of faculty within the Department of Human Science.
The center was created through the generosity of the former School of Nursing & Health Studies' Parents Council. It houses faculty research, hands-on student learning, and faculty-student collaboration around scientific investigation.
1,200
square-foot
wet laboratory for faculty and student research projects
1,400
square-foot
teaching laboratory for anatomy, biochemistry, cell biology, genetics, microbiology, and physiology classes
18 – 20
undergraduate students
working in the laboratory each year
Features
Located on the third floor of the School of Medicine's Med-Dent Building, accessible at 3900 Reservoir Road NW, the Discovery Center covers 3,000 square feet and includes a teaching laboratory, a research laboratory, a cell culture room, and a Zeiss Axiovert 200 microscope.
The facility is equipped with modern laboratory teaching tables and equipment for the undergraduate study of anatomy, physiology, microbiology, biochemistry and genetics, including tissue dissection, microscopic study of cells and tissues, culture and identification of bacteria and other microorganisms, and separation and identification of proteins and nucleic acids.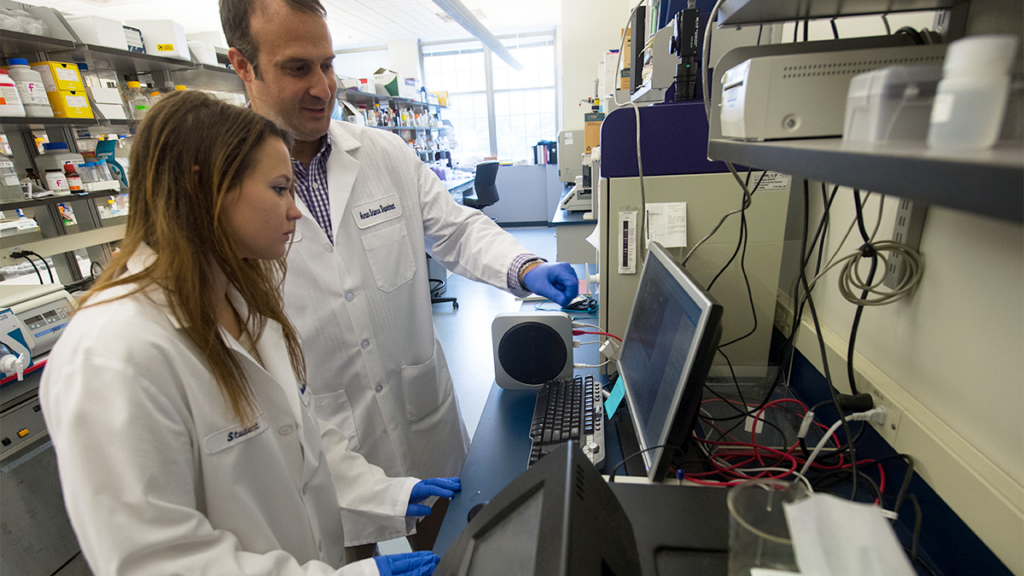 Adjacent to the teaching laboratory is a preparation and instrumentation room that serves both the teaching laboratory and the interconnected research laboratory, which houses a separate cell culture room.
The research areas are outfitted with state-of-the-art shared core instrumentation that includes centrifuges, cell incubators, microscopes, DNA amplifying, electronic cell counting and electrophoresis equipment for Department of Human Science faculty to conduct research independently and with students.
Contact
Elema Boru, Lab Coordinator
C302 Med-Dent Building
3900 Reservoir Road NW
Washington, DC 20057