Inspired by Their Mentors, Georgetown Students Present at Annual Undergraduate Research Conference
(April 21, 2023) — After Kimberly Jolie's (N'23) first day in her Introduction to Nursing Research class, she asked her professor if she knew anyone who needed help with their research. She had always had an interest in research, especially related to medicine.
The instructor, Jane Fall-Dickson, RN, MSN, PhD, invited Jolie to help with her research on patients who receive a stem cell transplant and their caregivers. The collaboration kicked off an invaluable mentorship. For the next year, Jolie worked alongside her before launching her honors research project under Fall-Dickson's guidance.
On April 19, Jolie presented her project at the annual Georgetown Undergraduate Research Conference, a showcase of students' medical and health-related research.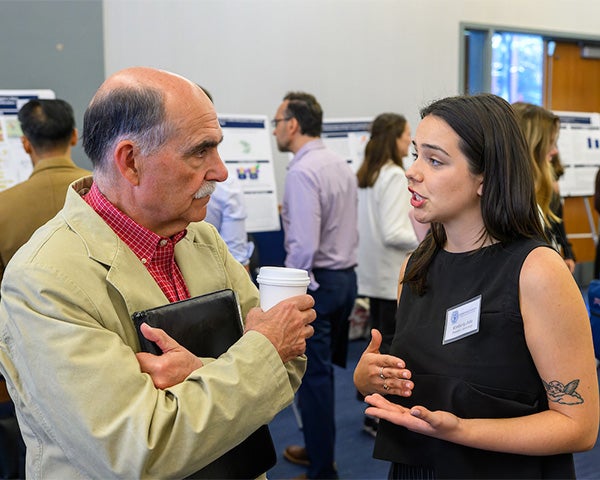 For Jolie, the mentorship she received from Fall-Dickson introduced her to the critical role of research in improving patient care.
"Dr. Fall-Dickson is driven and devoted to the educational success of her students, and maybe more importantly, to our growth as young people inspired to make change in health care," Jolie said. "She lives and breathes research and impresses that very same passion on her mentees."
Jolie presented alongside 92 other Georgetown students from biology, chemistry, psychology, nursing, physics and human sciences at the conference, which was founded in 2003 by the Human Science Department at the School of Health and organized by a student planning committee. Like Jolie, her fellow student researchers also benefited from a faculty's mentorship.
Crucial Guidance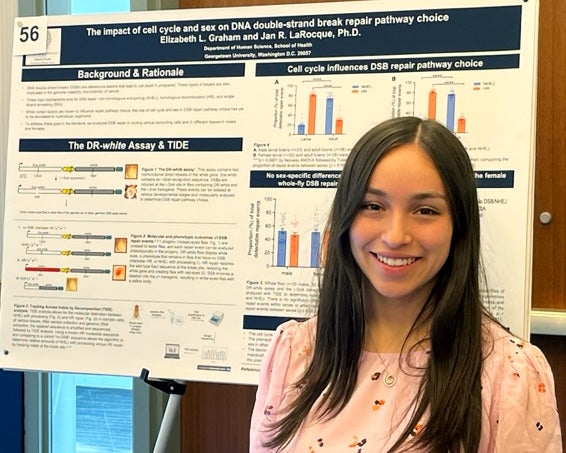 Elizabeth Graham (H'23), a senior in the School of Health and co-chair of the conference's student planning committee, said her mentor helped her navigate the complex research process — and offers crucial guidance for undergraduates pursuing research.
"At this early stage in our careers, many of us are joining research for the first time and are learning how to think in new ways," she said. "Without a good mentor to walk you through that process, it would be a lot harder to navigate."
Makenzie Thomas (H'24), Graham's co-chair on the committee and a fellow human science major, found that having a mentor helped her connect concepts she'd learned in the classroom to the real-world application of scientific research.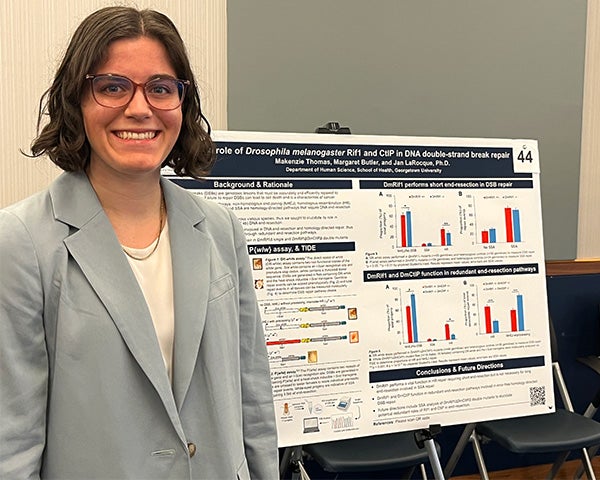 "Good mentorship is critical to building these connections and helping to shape students into researchers who can think critically and creatively, and eventually engage with the scientific community independently," Thomas said.
Jan LaRocque, PhD, associate professor of human science and an advisor for the student planning committee, mentors both Thomas and Graham. She said that mentorship is especially important to help students understand the theory of research and how the work gets done.
"It requires a unique mentorship," LaRocque said. "None of this work would happen if the students weren't paired with a faculty member who's willing to mentor them and teach them, help them with their poster and then help them gather that data that they're presenting. Rarely do I see a student who completely did the work on their own."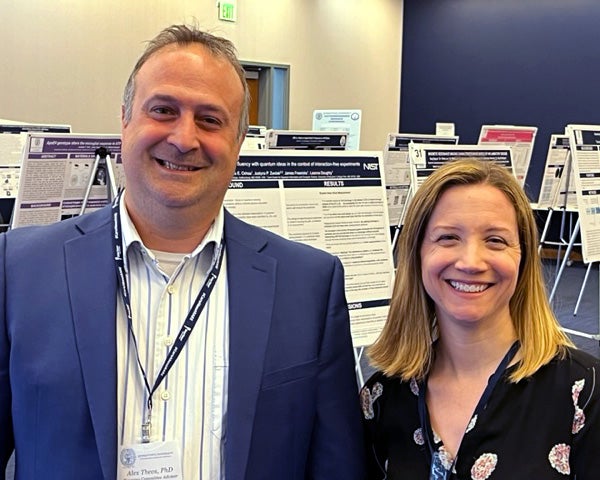 "I can remember my own first research experiences as an undergrad, and these are often truly formational for the path that we follow," said Alex Theos, PhD, associate professor of human science, who also advised the student committee planning the conference. "When, years down the road, former mentees mention their undergraduate research experiences during their PhD thesis presentations, it really brings home how much of an impact you can have at this early stage in their progression."
Fulfilling Journey
In recognition of the importance of faculty mentorship, the Student Planning Committee presented a special mentorship award named in honor of Allan Angerio, PhD, a human science professor emeritus who retired in 2010 after 38 years on Georgetown University's faculty. Angerio taught and mentored thousands of undergraduate students during his career.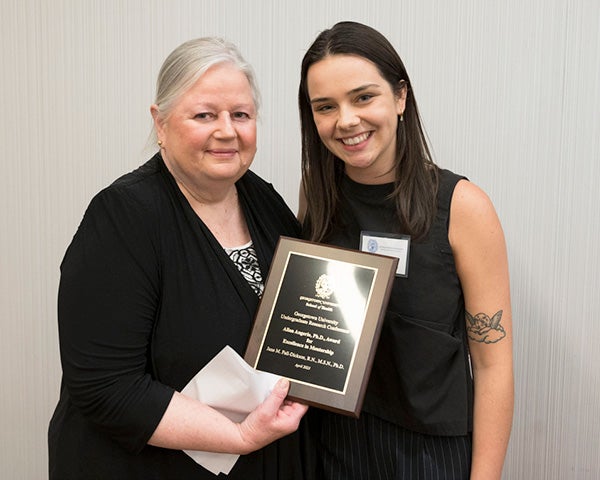 This year's recipient was Fall-Dickson, whose selection represents the first award for a nursing faculty member. She was nominated by Jolie, who describes Fall-Dickson as a pioneer in oncology nursing science.
"I was thrilled when I received the news that I had been chosen to receive the Allan Angerio Mentorship Award," said Fall-Dickson. "Mentoring our BSN students is one of my greatest sources of personal joy and professional fulfillment here at Georgetown.
"My driving focus is to have my students understand how critical valid research is to form the evidence base of their clinical care and care in the community, as well as the related policy implications," Fall-Dickson added. "My mentoring journey has been rich and fulfilling."
A Lasting Impression
Jolie explained that Fall-Dickson demonstrated how to balance research and nursing. "She showed me I didn't have to sacrifice either the intimate relationships nurses form with patients and families or my interest in participating in research."
Fall-Dickson also helped her consider new perspectives on her research, which focuses on breast cancer survivors in clinical trials to understand the experiences of being a patient and the implications larger than treatment of disease. This was particularly helpful when things became challenging.
"Dr. Fall-Dickson embodies cura personalis in her scholarly research contributions, educational pedagogy and formative relationships she fosters with her students," Jolie wrote in her nomination of Fall-Dickson. "[She] is driven and devoted to the educational success of her students, and maybe more importantly, to our growth as young people inspired to make change in health care."
The mentor-mentee relationship has left an important impression on Jolie.
"I hope that one day I will be able to leave the same impact on future generations of aspiring nurses."
Undergraduate Research Conference Awards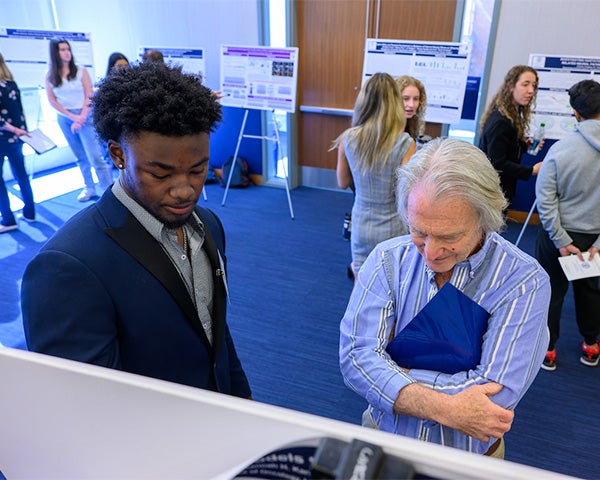 Excellence in Poster Presentation
Madeline Grbic (CAS'23): "Assessing the Use of Patient-Derived Breast Cancer Xenografts in Zebrafish Embryos"
Antonia Sames (CAS'23): "Effects of Hypoxia on Sympathetic Neuron Differentiation and Neuroblastoma Development"
Nesreen Shahrour (H'23): "Exploring the Impact of the COVID-19 Pandemic on the Lives of People with Intellectual and Developmental Disabilities in the District of Columbia From Their Perspective"
Ola Swiatek (H'23): "Optogenetic Activation of Basal Ganglia Inhibitory Inputs to the Pedunculopontine Nucleus"
Best Overall Poster Presentation
Grace Knoer (CAS'23): "The APOE4 Isoform is Linked to Increased Cognitive Impairment Following Treatment with Chemotherapy"
Rising Researcher Award
(Best poster presentation by a first-year or sophomore)
Conner Landers (H'26): "Aging-associated Impairment in Hippocampal Long-term Potentiation (LTP) with Acute Amphetamine Rescue"
Alexandria Sorenson (CAS'25): "Development of Novel Transgenic Zebrafish for In Vivo Characterization of Genotoxic Substances"
Excellence in Oral Presentation
Caroline Crone (CAS'23): "Sperm RNAs and Placental Development as Mediators of Paternal Obesity Effects on Offspring"
Naomi Greenberg (CAS'24): "Can Biased X Chromosome Inactivation be Explained by Sexual Antagonism?"
Nicole Keller (CAS'23): "Police Perceptions of Mental Health-Related Encounters with Youth"
Best Overall Oral Presentation
Naomi Greenberg (CAS'24): "Can Biased X Chromosome Inactivation be Explained by Sexual Antagonism?"
Allan Angerio Award for Excellence in Mentorship
Jane Fall-Dickson, PhD, MSN, RN