Graduates from School of Health Called to Be Social Justice Warriors
(May 22, 2023) — "Wow, just wow!"
With those three words of joy from School of Health Dean Christopher J. King, PhD, MHSc, FACHE, commencement exercises began for the inaugural class of the school founded less than a year earlier. A spirited audience of family, friends and loved ones filled the seats of the storied Gaston Hall for the May 20 graduation.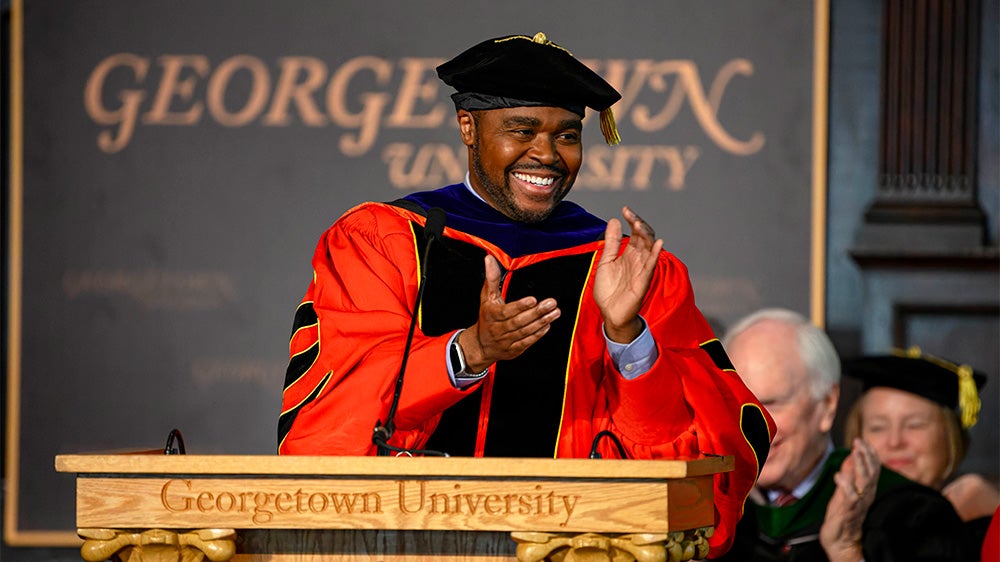 Addressing the Class of 2023, King acknowledged the challenging path experienced by the students, including the pandemic, and charged the graduates to use what they've learned to help shift a system of sick care in the U.S. to a system of health care.
"There will always be an asterisk to notate the distinct nuances of the Class of 2023 and your ability to excel and thrive and persevere," King noted. "As tragic as the pandemic was or is, it was a perfect case study for understanding how social, economic and political forces shape health.
"Now that we are on the other side of the wave, this is the time, my friends, for us to mobilize," King added. "It is time for us to do better."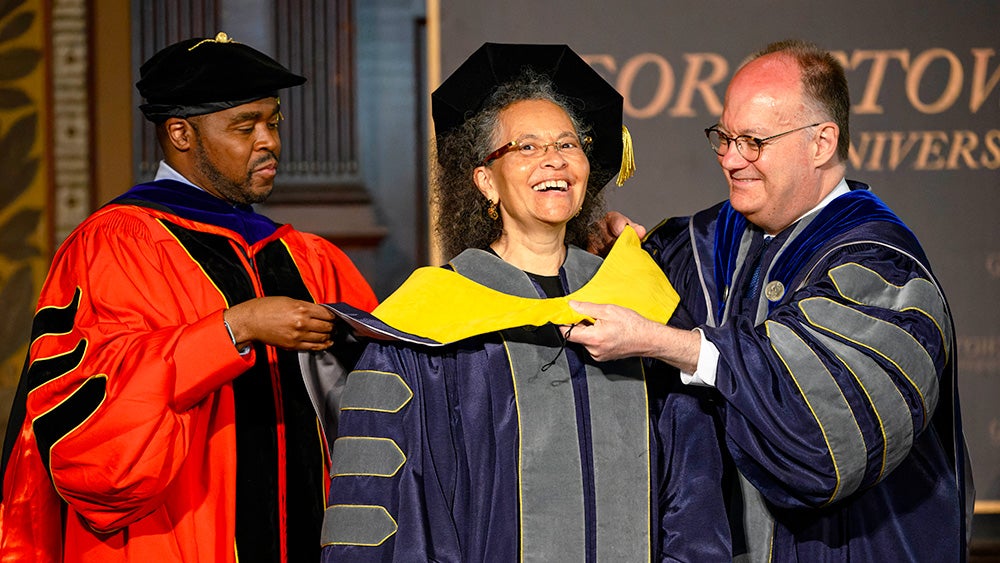 For commencement speaker Camara Phyllis Jones, MD, PhD, MPH, doing better requires the graduates to be "social justice warriors" and address racism.
Jones, a senior fellow in the Satcher Health Leadership Institute and Cardiovascular Research Institute at Morehouse School of Medicine, was presented with an honorary doctor of science degree from Georgetown before addressing the graduates.
A renowned public health thought leader, she captivated the audience with her energy, passion and humor as she focused on racism with the stated intent to give the graduates tools for having critical conversations with others.
Naming and Dismantling Racism
"There are four key messages when we name racism," Jones began. "That racism exists, that racism is a system, that racism saps the strength of the whole society, and that, yes, we can act to dismantle racism."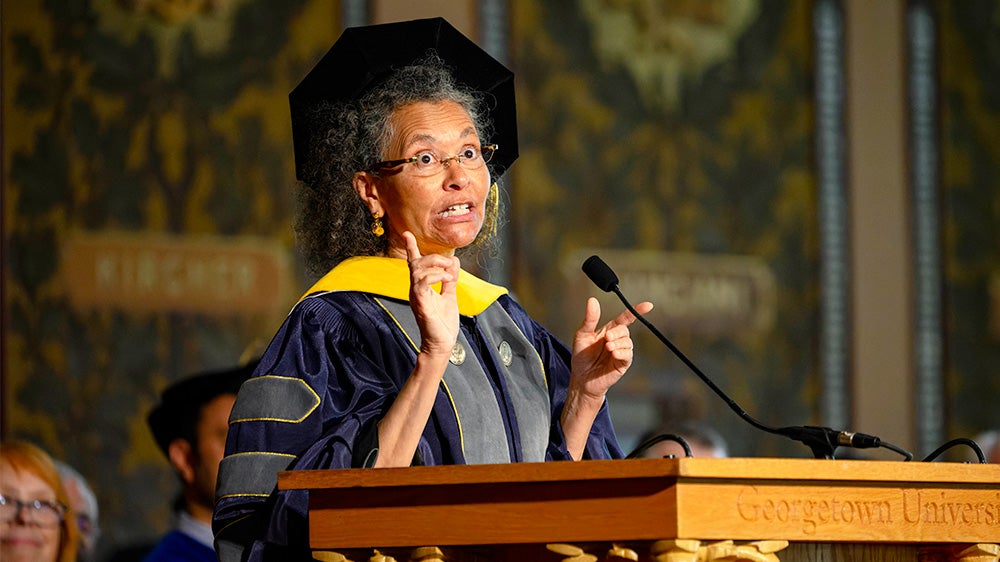 Known for her allegories to teach about racism and its impact on health outcomes, Jones shared a story she named the "Dual Reality: a Restaurant Saga" to illustrate racism as a system. Using the symbolism of an open/closed sign on a restaurant door, she explained how perspective impacts the ability to see racism as a system.
"Racism structures open/closed signs in our society. Racism structures a dual reality," Jones explained. "For those who are sitting inside the restaurant at the table of opportunity, eating, they look up and they see a sign that says 'open.' They don't even recognize that there's a two-sided sign going on, because it is difficult for any of us to recognize a system of inequity that privileges us."
"So we must go beyond naming racism, to action. Which means that we need to tear down that sign. But, of course, racism is not just a sign. … We need to dismantle the lock, take the door off the hinges."
Jones then challenged graduates to move out of their comfort zone.
Comfort and Social Justice
"Valuing comfort and valuing social justice are at opposite ends of a value system," Jones said. "For all of us in the room, we need more of us to shift from valuing comfort to valuing social justice — even as we recognize that valuing social justice will not always, or maybe ever, be comfortable."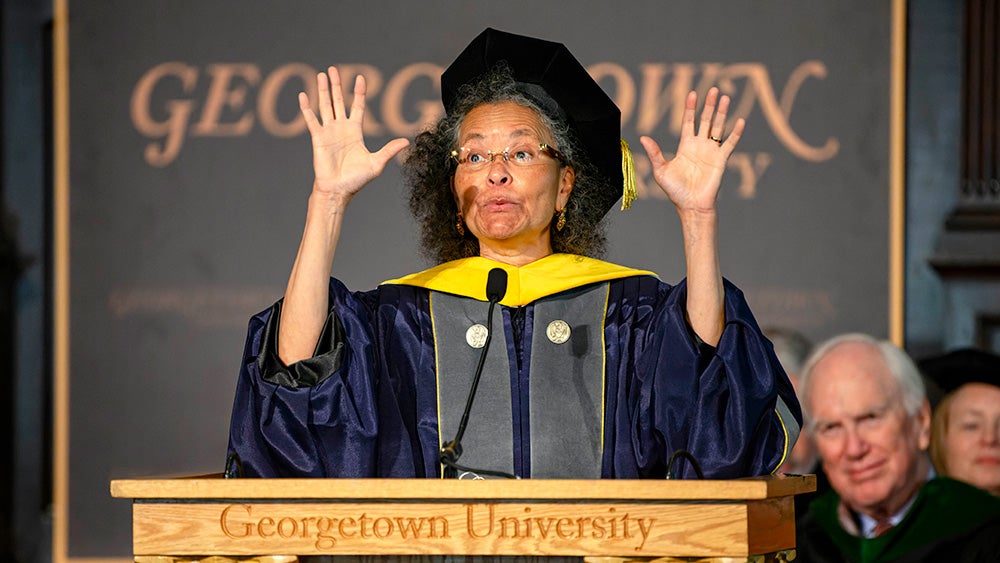 "People who value comfort very jealously guard their seats inside the restaurant. They guard their privilege," Jones explained.
"There are people who have been born inside the restaurant who wonder why aren't other people coming in… who make their way outside the restaurant and then find themselves experiencing our common humanity on the other side. On the other side of that sign. And many of you all as students here at Georgetown are in that number."
In closing, Jones shared a special challenge directed at the students.
"My challenge to you are what I describe as my four BC's … which are habits of mind for social justice warriors. What are they? They are, be courageous, be curious, be collective and build community."
Georgetown Experience
After Jones concluded her address, King and Georgetown President John J. DeGioia presented bachelor's degrees in human science, global health and health care management & policy, and Master of Science degrees in health systems administration.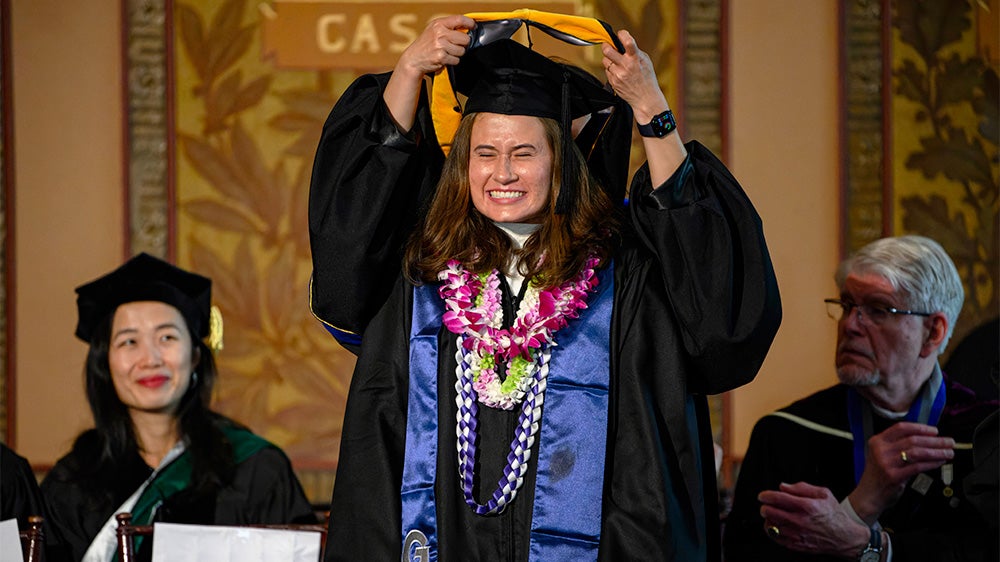 Global health major Hannah K. Folau (H'23) was touched by Jones' message. "It was such an honor to have been in the same room as Dr. Jones," she said. "Her use of the open/closed sign is something I will take with me forever. I will stay committed to acknowledging the doors that are open to me because of my privilege and I will always prioritize advocating that all doors be eliminated."
View a recording of the Georgetown University School of Health Commencement ceremony.
---