Human Science Alumna Focuses Future Medical Career on Health of Native Communities
November 16, 2021 – When Yasmin Zuch (NHS'20) was an undergraduate at Georgetown, she served as a leader in the Native American Student Council on campus and received a prestigious Udall Undergraduate Scholarship to focus on Native health care. 
At the time, she explained that her long-term goal was "to engage more deeply with the Native health care system and the health problems that are the most prevalent on the reservations."
Today, the human science alumna is advancing that passion as a first-year student at the University of California at San Diego School of Medicine. 
"Medical school has been great so far," she said. "Much of the material that we've been covering was also content that I encountered at Georgetown, so it's safe to say that I feel like Georgetown has sufficiently prepared me for the work I have ahead of me."
Dual Degree Opportunity
After Georgetown and before medical school, Zuch worked on Tribal health projects with the National Indian Health Board and was a virtual scribe at an ob/gyn clinic in Oregon.
She was selected for the medical school's Program in Medical Education – Health Equity (PRIME-HEq) and hopes to use the scholarship funding toward a master's degree in education to complement the doctor of medicine degree.
The program focuses on educating "medical students to better serve populations and communities at risk of health disparities," she said, a mission that aligns with her own goals. 
'Community That Supported Me'
Additionally, Zuch shared that her educational experiences have helped bring her closer to her Navajo and Hopi-Tewa heritage.
"Between Georgetown and UCSD, I've had several opportunities to express my Native heritage," Zuch said. "Each time, I'm reminded of a community that supported me and had greatly influenced my decision to pursue medicine. My end goal is to medically serve Native people, so when things get stressful at school, I remind myself who I am doing this for."
While on the Hilltop, she was the president, vice president, and treasurer of the Native American Student Council, roles in which she advocated for changes on campus to provide better support for Native students.
'Endless Support and Inspiration'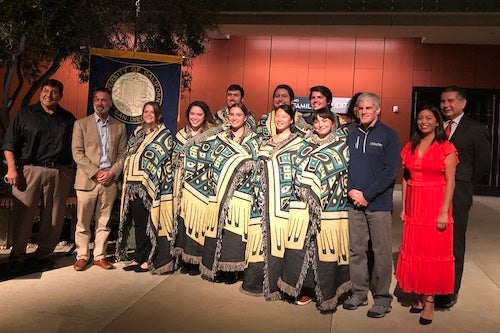 Amid the busyness of life in medical school, Zuch takes time to contemplate the connection between her past and her future.
"Reflecting on the faculty members at Georgetown who had guided and supported me, it had such a tremendous impact," she said. "So I've been considering what effect I can have as a Native educator in academic medicine. I hope I can be just as inspirational for other future Native physicians if I go down that path."
She shared her gratitude with many individuals – including her professors, the staff, and the Native American Student Council – for "endless support and inspiration."
Said Zuch: "I've come further than I would have imagined thanks to you."
By Bill Cessato