While in Ghana for Practicum, Global Health Major Focuses on HIV/AIDS Research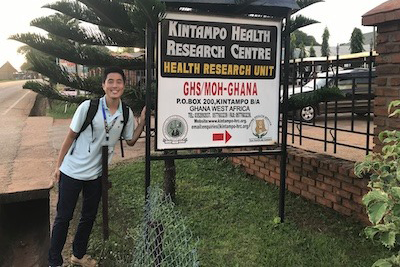 September 20, 2019 – Julian Marable (NHS'20), a global health major and chemistry minor who is currently conducting HIV/AIDS research in Ghana as a part of his 12-credit senior-level practicum, says, "I always tell people that if I could do it all again, I'd pick Georgetown twice. The experiences I've had in this major and love for being a Hoya will certainly make it hard for me to graduate in the spring."
Question: Where did you grow up, and how did you discover Georgetown?
Marable: I grew up in New York. I think I first discovered Georgetown when I was looking at schools in DC. I'd visited the city many times before, and I knew I wanted to go to school here. When I discovered the NHS and its unique majors, I was sold. What attracted me to the global health major is this semester abroad program – so it is very exciting to finally be here.
Question: What are you working on this semester in Ghana?
Marable: While in Ghana, I am working at the Kintampo Health Research Centre. My project is aimed at identifying factors that influence antiretroviral adherence among pregnant and postpartum women with HIV/AIDS in the Kintampo North and South districts in the Brong-Ahafo region. 
The emergence and transmission of drug resistant viral strains from suboptimal adherence is a major concern, particularly in the prevention of mother-to-child transmission. As an aspiring physician, I am very excited to be working on a topic that lies at the intersection of global health and medicine.
Question: How have you enjoyed Georgetown and the global health major?
Marable: While Georgetown had always been my dream school, nothing could have prepared me for the amazing and exciting journey that it's been. Everything from the people and my classes to the coffee and cupcakes, Georgetown offers nothing but the best. 
I've enjoyed classes taught by the top experts in their fields, most still involved in research or consulting, with connections at the WHO, World Bank, and more. I've taken classes ranging from "Epidemiology" and "Research Methods" to "Health in Conflicts" and "Global Mental Health." The major offers flexibility to take outside classes as well, giving me the opportunity to take a class on disability studies and even a class on friendship. 
Outside of the classroom, I've loved exploring the DC food scene. Georgetown's location is optimal for shopping, delicious restaurants, and of course, cupcakes. I've enjoyed trying new coffee shops and restaurants all over the city with my friends, and with so many great choices, you're sure to never run out of options. I always tell people that if I could do it all again, I'd pick Georgetown twice. The experiences I've had in this major and love for being a Hoya will certainly make it hard for me to graduate in the spring.
Question: Tell us a little bit about your time at Georgetown, including your activities.
Marable: My time at Georgetown has been nothing short of magical. Right away, I got involved with the club swim team, the Georgetown Admissions Ambassador Program (GAAP), and the NHS Academic Council. GAAP was definitely a big reason I chose Georgetown, so serving as the vice president last year was a really rewarding experience.
My sophomore year I started working in Dr. Jennifer Swift's lab. The lab is quite multidisciplinary, combining organic, solid state materials and analytical chemistry. Currently, I am working on 5-fluorocytosine systems, studying the structure-property relationships in its polymorphs, hydrates, and cocrystals. 
As a chemistry minor, I am very interested in the intersection of chemistry and medicine, primarily in the field of orthopedics where crystal deposition diseases can result in cartilage breakdown. I think this intersection is really fascinating and holds great implications for the development of techniques in tissue regeneration. I have also spent some time volunteering in the orthopedic clinic at MedStar Georgetown University Hospital, which gave me the opportunity for shadowing in the clinic and operating room. 
I am also an NHS peer advisor and have participated in Georgetown's Public Health Brigade to Honduras. These activities have been hallmarks of my time at Georgetown, and I'm so thankful for all of the opportunities that Georgetown has to offer.
Question: What are you thinking about after Georgetown?
Marable: After graduation this spring, I am taking a gap year and applying to medical school. I have loved my time in DC so much that I hope to stick around and work in the area during the year. After that, I'd love to return to the Hilltop for medical school.