Undergraduates Shed Light on the Effects of COVID-19 in North Korea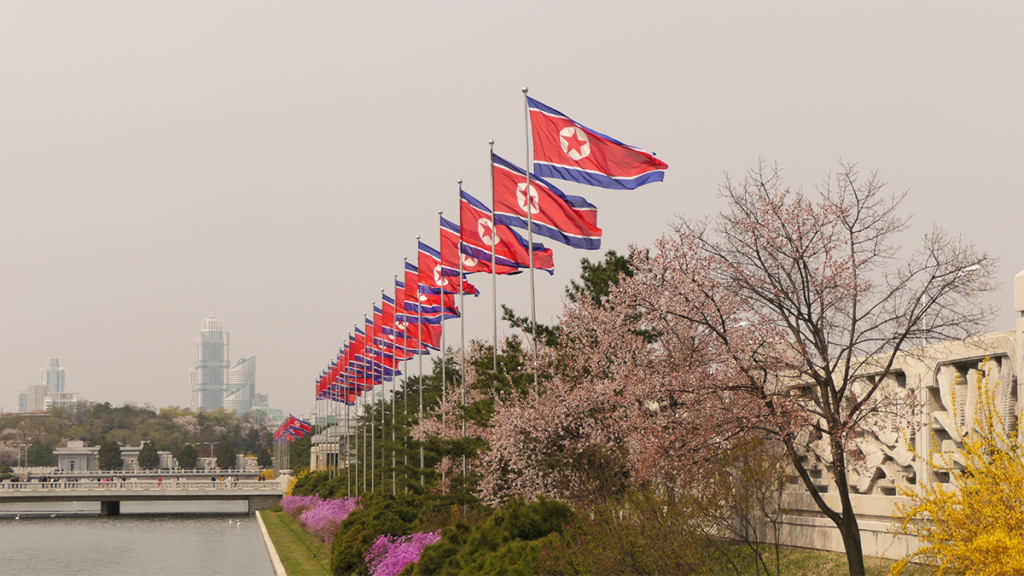 (May 13, 2022) — Before the May 2022 outbreak, the COVID-19 virus appeared to harm fewer people in the Democratic People's Republic of Korea (North Korea) than the blockade of assistance triggered by the pandemic, two School of Nursing & Health Studies undergraduate students concluded in a recent study.
"The pandemic restrictions and the blockage of assistance were more harmful than the pandemic itself," said Abigail Corrao (NHS'23), a human science major. "The border closures led to the continuation of the malnutrition already present in the country."
Corrao and Matthew Carvalho (NHS'23), a global health major, presented their findings at the inaugural Department of International Health Student Research Showcase on April 27 in McShain Lounge in McCarthy Hall.
High-Quality Research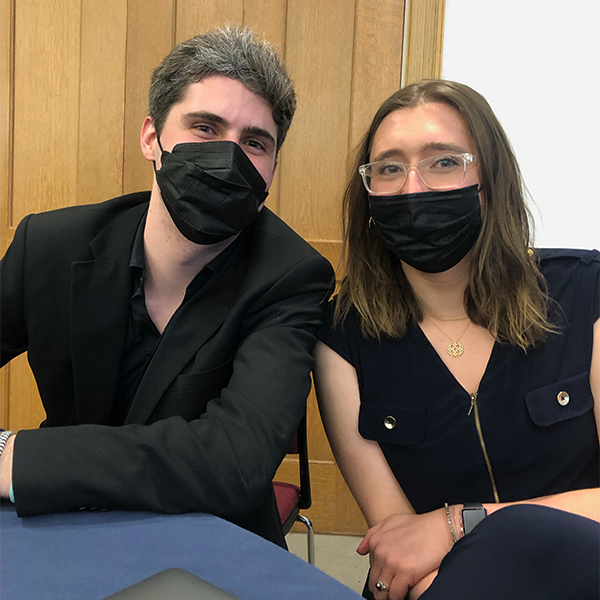 "Matt and Abigail produced a high-quality paper," said Jennifer Bouey, PhD, associate professor and chair of the Department of International Health at the School of Nursing & Health Studies. "It was fascinating to see who they were able to contact for their research, and it's fantastic that our juniors can do this."
In fact, Corrao and Carvalho's research was the catalyst for the research showcase.
"Initially, we thought Matt and Abigail would just present their research, but then we decided to go all in and have both undergraduate and graduate students share their work with all of the faculty from the department," Bouey said.
Health Infrastructures in a Humanitarian Crisis
For their research, Corrao and Carvalho spoke with health and human rights experts on North Korea, including Roberta Cohen of the Brookings Institute and Kee Park, MD, of Harvard Medical School and board member of the Committee for Human Rights in North Korea.
Using journalistic methods, Corrao and Carvalho began their case study, titled, "A Crisis Threaded Through Viral Isolation: The Case for Humanitarianism in the Democratic People's Republic of Korea," by documenting the severe humanitarian crisis already facing North Korea. They then examined how the COVID-19 public health emergency further exacerbated the country's plight.
Specifically, they found that North Korea's precautionary response to SARS-CoV-2 resulted in a decrease of scarcely available foreign aid. To mitigate the effects of the humanitarian crisis, the two researchers called for a Special Envoy for North Korean Human Rights within the State Department that would pay particular attention to the existing health care infrastructures, social determinants of health, and the challenges of aid distribution.
Supporting More Global Health Research
Following their presentation at Georgetown, Corrao and Carvalho traveled to the University of California, Santa Cruz to present their research to a group of scholars at the UC Global Health Day on May 7. The Department of International Health sponsored their travel.
"This experience has broadened my future interests in global clinical work," Corrao added. She hopes to continue her research interests while applying to medical schools this upcoming year.
Bouey and her colleagues hope to make the student research showcase an annual event highlighting undergraduate and graduate research at Georgetown focused on global health.
Heather Wilpone-Welborn
GUMC Communications
Additional Research Presented at the Department of International Health Student Research Showcase
Rhya Evans (NHS'22) — "Religion, Menstruation, and Refugee Realities: Insights from Rohingya Girls and Women"
Yuxuan Liu (NHS'23) — "Challenges and Innovations in Community-Based Organization HIV/AIDS Services During COVID-19 in China"
Caleb Bridgwater (GLOH – master's degree, GLOH'22) — "9Zr-Labeled Anti-PD-L1 Antibody Fragment for Evaluating In VivoPD-L1 Levels in Melanoma Mouse Model"
Ollie Hanner (NHS'22/GLOH'23) — "Health Care Utilization and Barriers to Use: Looking at Indigenous Women in West Papua"