Health Care Management & Policy Senior Leads Academy Health Chapter and Hindu Students Association
December 6, 2021 – Sannidhi Shashikiran (NHS'22), who grew up nearby in Maryland, remembered it was the Hoyas she engaged with who helped her realize Georgetown was the university for her.
"I was especially drawn to Georgetown because of the Hoyas I met," said Shashikiran, a senior health care management & policy major at the School of Nursing & Health Studies.
"From my alumni interviewer to the students I connected with on campus, I was impressed by the common thread of passion and kindness that everyone I spoke with shared," she added.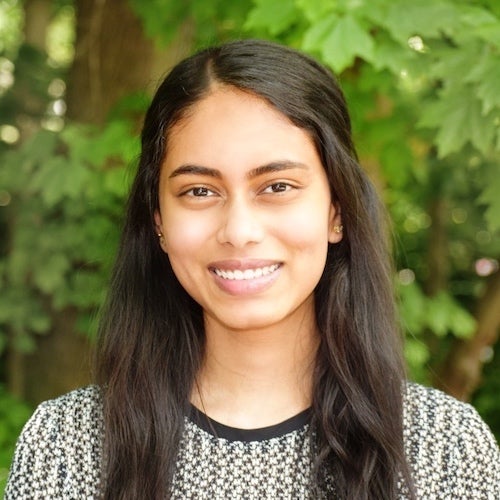 Student Leader
This year, Shashikiran leads, as president, two organizations on the campus, including the Hindu Students Association (HSA) and the university's chapter of AcademyHealth.
"Over the past three years, being involved with HSA has not only given me a community of friends who offer unconditional kindness, empathy, and support, a place to engage in both interfaith and intrafaith dialogue, and the opportunity to learn about cultures from around the world, but also a place to call home on Georgetown's campus," she said.
As president and along with her board colleagues of the student-led organization, Shashikiran said she values holding "programming that engages and promotes community-building among students, connects with other faith groups on campus, and gives back to Dharmic and South Asian communities through various philanthropic endeavors."
Health Policy and Research
Through her work with the AcademyHealth chapter, Shashikiran has hoped to foster a space for connection and learning.
"My involvement in AcademyHealth has centered around creating a platform on campus for students, including those studying health policy and those who are interested in learning more about the health services research field," she said. "Through a combination of research-oriented and professional development events, AcademyHealth offers Georgetown students an avenue to enrich their learning outside of the classroom on the Hilltop."
The organization has engaged with prominent speakers from the National Human Genome Research Institute and the Kennedy Institute of Ethics, created opportunities for students to present their research, and – with the Cawley Career Education Center on campus – hosted alumni panel discussions about health-related careers.
Social Justice Framework
Shashikiran said a health-oriented degree intersects well with her interests in community and justice.
"I was raised with an emphasis on social justice and community service, so pursuing a major in the health field was a natural continuation of this work," she said, noting she has gotten to know the health field better through various experiential opportunities, including at the National Institute of Health and area hospitals.
"Through my major in health care management & policy and minor in health promotion and disease prevention, I've taken advantage of highly relevant and applicable coursework that Georgetown has to offer," she explained.
For example, she has had the opportunity to teach a virtual course related to health literacy in Alaska, conduct research on that experience, and intern at the O'Neill Institute for National and Global Health Law's Center for Transformational Health Law.
"This semester, I look forward to engaging with the COVID-19 health systems work for my HCMP management-track internship, through a US health system lens, drawing connections between the pandemic responses of the United States and countries in Southeast Asia," she said. 
'Especially Thankful'
Shashikiran explained that her major – "grounded in health equity and social justice" – has offered a depth of understanding on policy and systems, nurtured learning among peers, and helped form strong friendships.  
Her senior honors thesis will look at the COVID-19 pandemic, particularly focusing on local systems of care with respect to HIV. "I have been especially thankful for how open, supportive, and encouraging both Georgetown faculty members and deans have been, and for how my mentors have always lifted up my various academic interests," she said.
By Bill Cessato