School of Health Students Practice Community-Led Approach to Health With Alaska Natives
(November 9, 2023) — When considering global health challenges, practitioners in the field often say "what's global is local" and vice versa. This fall, Alaina Anderson (H'24) and Seareen Maaita (H'24), both studying global health, took this theory with them while interning for 15 weeks with the Alaska Native Tribal Health Consortium.
"It's one thing to talk about global health theoretically in the classroom, but it's completely different to practice it in community and actually do the work," said Maaita. "This experience teaches you not only how to practice global health on the ground, but also gives you greater understanding and empathy for the communities you work in."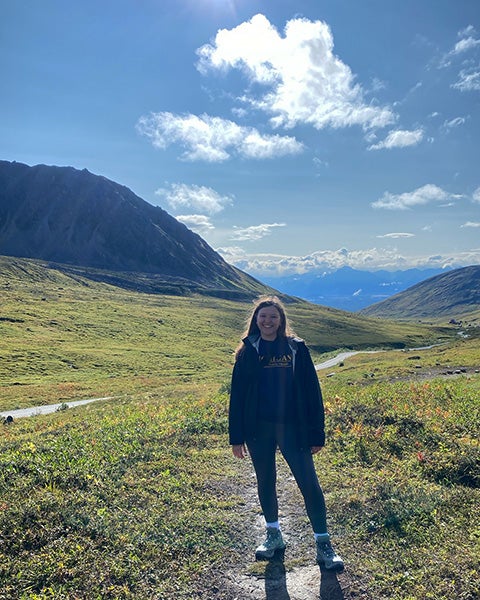 Experiential learning is built into the curriculum of the School of Health. Anderson and Maaita both chose to study at Georgetown in part because of the opportunity to learn global health through experiential learning.
When considering what experience to take on, students share their interests with faculty, who then match them with a specific organization and location. Students are paired with at least one other student.
"When applying to sites, I was not particularly interested in Alaska because of the weather," said Maaita. "But I can see why the faculty placed me here because of my work with the Center for Social Justice. I think they wanted students with a sensitivity to working with marginalized communities."
"I definitely have an interest in Alaska," said Anderson. "I'm actually writing my honors thesis on American Indian/Alaskan Native health, and I've had previous experience volunteering on reservations in high school helping out with summer programming for kids."
Community-Led Approach to Global Health
Anderson and Maaita are spending the fall semester working alongside members of the consortium, a nonprofit led by Alaska Natives whose broad mission includes not only providing comprehensive medical services but also disease research and prevention, and even rural water and sanitation system construction.
"The organization is very cutting-edge in its understanding of how community health should work," said Maaita.
The students are based in Anchorage, where the consortium's Alaska Native Medical Center is located, a facility that provides specialty care not available in local community health settings.
"This really is the community taking charge of their health care," said Anderson. "It's the only health care system run by Alaska native corporations and tribes." The alternative health care provider is the federally run Indian Health Service (IHS).
"Being here has shown me how much the community is needed when addressing health, and there's another element of social justice in taking control over their health instead of relying solely on IHS," said Anderson. The history of treatment of American Indian and Alaska Native peoples by IHS has been fraught, including forced sterilization and clinical misconduct in the name of research.
Anderson and Maaita's work at the consortium has deepened their understanding of the health of Alaska Natives.
"I've been working a lot on a grant proposal studying substance abuse, overdose and interventions," said Maaita. "Working on it has helped me better understand substance abuse disorder in Native communities."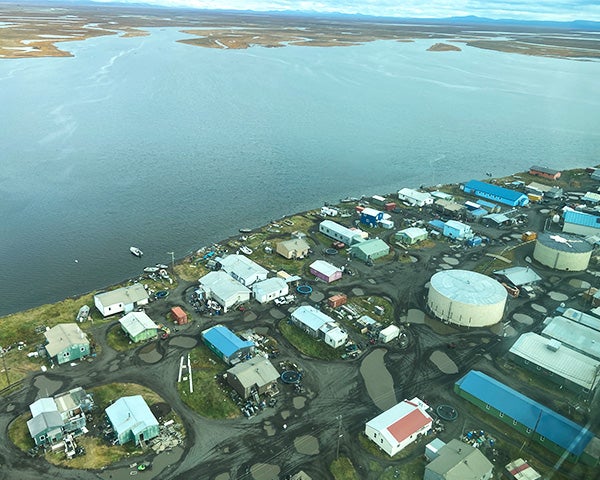 Anderson has worked extensively on another project investigating health concerns of Kivalina, a remote community of about 400 people that sits downstream from one of the largest zinc mines in the world.
"The community came to the consortium with a list of health issues, including how the community experiences congenital heart defects at three times the rate of other communities," said Anderson. "So now the consortium is researching different factors and focusing on conducting a pregnancy exposure survey to see what women are eating and where they are visiting."
In October, Anderson spent a week in Kivalina, which sits on an island and requires a plane to reach. "We even had to fly in 40 pizzas for a meeting with the community," she said.
Like with providing health care, Anderson reiterated the importance of the research emerging from community concerns rather than a researcher outside the community posing a question.
"It's a different approach to research when it's community driven," said Anderson. "I keep thinking about how my role in all of this is really just to amplify their voices."
Time To Reflect in Nature
During their time in Alaska, Anderson and Maaita have been able to step away from work and appreciate learning about a new area of the country.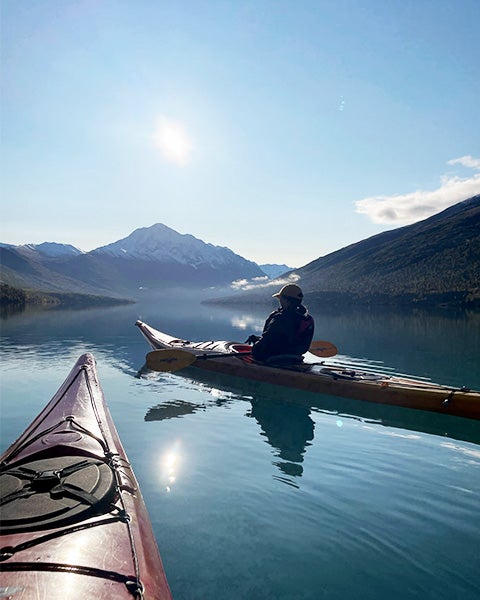 "Coming to Alaska is such a nice change of pace to just be outdoors and experience the beauty of it," said Anderson. "The wilderness and parts of the tundra that have been untouched, it just hits you in the face how beautiful it is."
The two have taken a glacier hike in Denali National Park and gone sea kayaking in Whitter.
"Whitter is very neat to visit because it's so isolated," said Maaita. "To get there, you have to go through a large tunnel the government carved through a mountain during World War II."
"I feel fortunate to have had this experience in Alaska and to work in global health," said Anderson. "As I move into my professional career, I hope to continue to build capacity within communities to advocate for their own needs."
Heather Wilpone-Welborn
GUMC Communications
Top Image: Global health program students Alaina Anderson (H'24) and Seareen Maaita (H'24) trekked to the Matanuska Glacier during their time in Alaska.