School of Health Students Finding Sustainable Health Solutions in Rural India
(July 20, 2023) — Through their student-run organization, Project RISHI (Rural India Social and Health Improvement), Georgetown undergraduate students including those from the School of Health are partnering with local nongovernmental organizations (NGOs) to address population health problems such as anemia and malnutrition through education and the use of sustainable health products.
"We work directly with people in villages to identify problems and create effective and sustainable solutions," said global health major Shreya Arora (H'24), who co-founded the organization at Georgetown in fall 2020.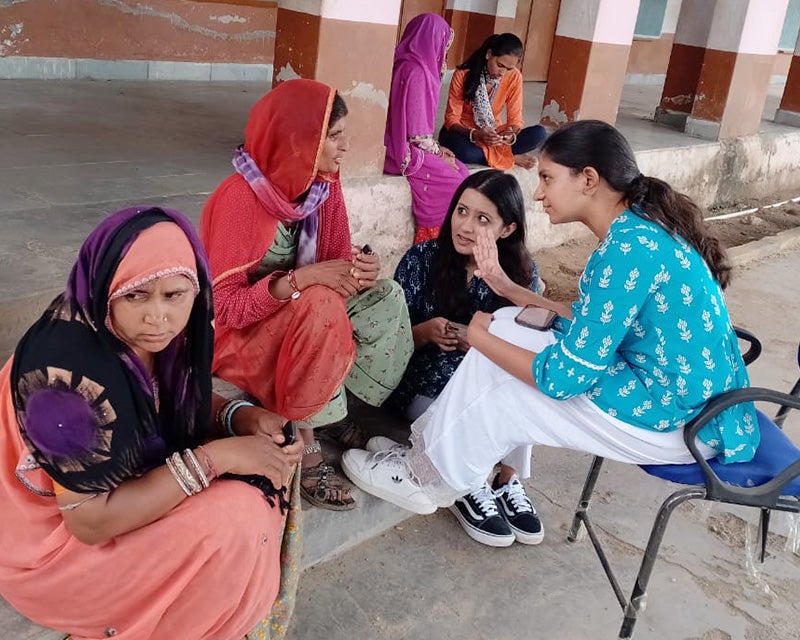 "Sustainability and co-creation are at the core of our work," said economics and mathematics major Sanchi Gupta (C'24), who is co-president along with Arora. "We collaborate on projects and continue to follow up to see if what we are doing is working."
Arora and Gupta say several RISHI members share South Asian heritage, and they wanted to find a way to both connect with their culture and pursue public health projects.
"I went to high school in southern India, where I worked with an orphanage for girls with physical and mental disadvantages," said Gupta. "When I came to Georgetown I was looking for an outlet to continue to work on issues relevant for women and children and India, so when I found RISHI, I was all in."
Connecting Shared Culture with a Cause
RISHI received considerable support from Georgetown's Social Innovation and Public Service Fund (SIPS), which allocates approximately $60,000 in annual award money to student-led projects that further the Jesuit value of service to others.
RISHI used the SIPS funds to collaborate on projects with Gramin Avam Samajik Vikas Sanstha (GSVS), an NGO based in Rajasthan. Members of the executive committee visited the region with SIPS funds in May.
"During the trip, we made time to not only connect with GSVS about our ongoing projects, but we also had the opportunity to think through future projects," said Arora.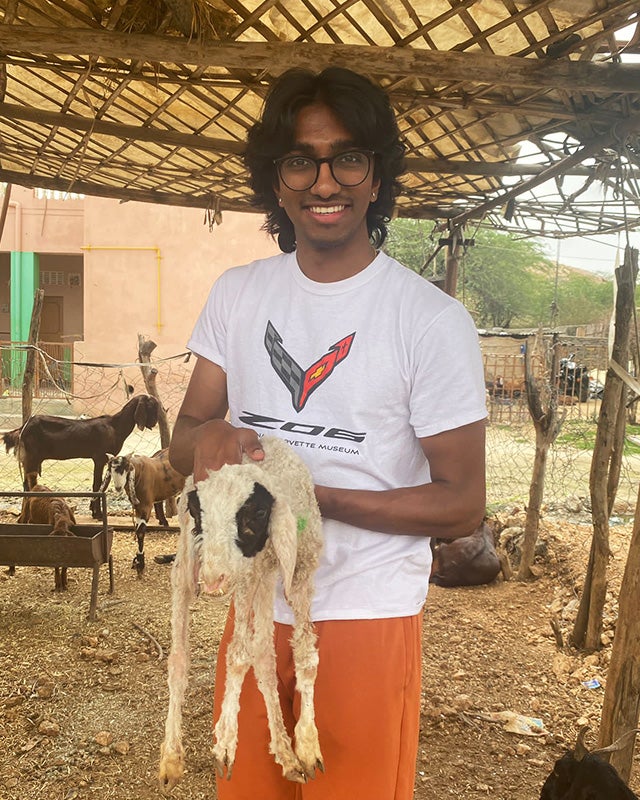 One possible future project RISHI explored joining is a GSVS goat rearing — raising, caring, feeding and breeding — initiative in the Piplaz and Fatehgarh villages aimed at providing female migrant workers a sustainable vocational alternative to working in the hazardous mineral grinding industry, the dominant employer in the area.
"There are very limited opportunities for employment in the region," explained Gupta. "Rearing goats provides these women with an alternative income-generating scheme in which, after an initial investment in the goat, the migrant women are able to milk them and sell their meat in markets."
RISHI reports the GSVS-run program has moved 300 women from the mineral grinding sites to goat rearing.
Arora, Gupta and Sresth Viswanathan (C'24), a RISHI board member, also met with local women in the villages near Rajasthan to hear firsthand about the success of their ongoing projects involving women's menstrual health and the prevalence of anemia in the region.
Finding the Sustainable Solution
For their inaugural project, RISHI partnered with EcoFemme, a women-led nonprofit based in Tamil Nadu, to distribute reusable cloth pads and host educational sessions for women about their menstrual cycle. While in Rajasthan, RISHI leaders spoke with women from the villages about their menstrual health needs.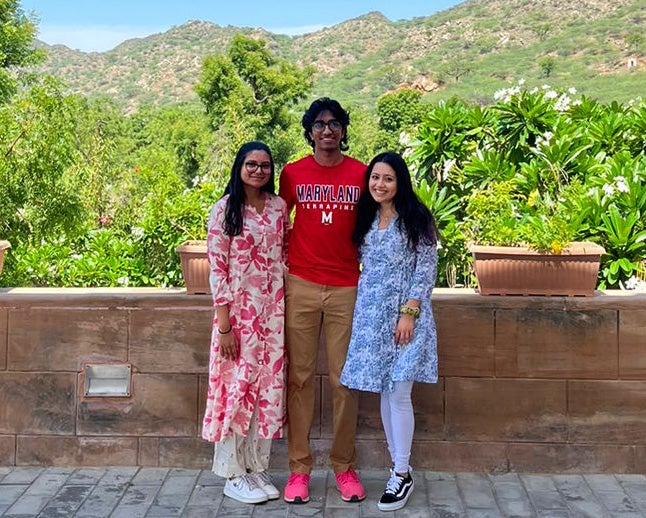 "There's really a stigma and a silence around menstruation in rural India, and we're really working to create a safe space for women to have these important health conversations and feel empowered to make choices about their menstruation," said Arora. "We've worked with over 150 women so far and distributed over 450 reusable pads."
The reusable cloth pads last for several years and fulfill RISHI's goal of finding sustainable, lasting health solutions.
"The pads can also be folded in a way where when they are hung out to try, it does not look like a menstrual pad, so women are less ashamed to use the product in an area where it's still taboo to talk about menstruation," Gupta said.
Lucky Shakti Leaves and Future Plans
Last year, RISHI partnered with Lucky Iron Fish, a Canadian social enterprise, on another project to help improve low iron levels in women in rural Rajasthan through a unique cooking tool.
"The population near Rajasthan doesn't have access to a lot of leafy greens, and the diet tends to be very dry, so it is hard to get iron from food," said Gupta. "We saw how it impacts their lives. The women and their children who are anemic are really tired and prone to fainting," Arora said.
"We worked with Lucky Iron Fish to rebrand as Lucky Shakti Leaf for the Indian market," said Arora. "The fish is not as appealing to the large vegetarian population in India."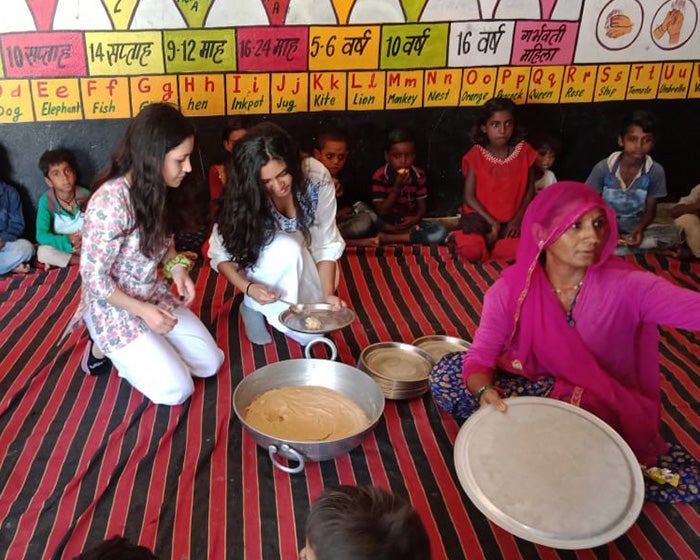 Thirty anemic women were selected for an initial pilot program where they received their cooking leaf after a workshop demonstrating how the tool can be added to any acidified boiling liquid to infuse a meal with iron.
"The leaves will last for five years and are sustainable and healthy," said Gupta. "We heard from women directly on our trip that when using the leaf consistently, they fainted less, felt less dizzy, and had an increased appetite."
For their next project, RISHI is looking to collaborate with GSVS on addressing child malnutrition in the area by providing nutrient dense packets to families.
"Being in the villages brought a sense of satisfaction for me in serving women from my culture," said Gupta. "I am really proud of the work we are doing."
Heather Wilpone-Welborn
GUMC Communications