One Tent Health Student Volunteers Gain Clinical Experience in Community Settings
(January 13, 2023) — Volunteering with One Tent Health, a nonprofit organization founded by two Georgetown alumni, gives undergraduate students interested in medicine a way to gain clinical experience by providing free rapid HIV screenings, COVID tests and more.
"I would say one of the main draws for undergraduates involved with One Tent Health who are interested in pre-med is that it provides an opportunity to volunteer in a clinical setting," said Makenzie Thomas (H'24), who is on the student advisory board of One Tent Health at Georgetown.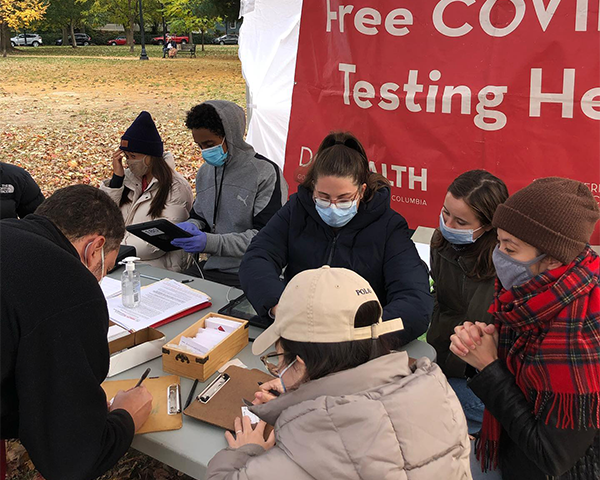 One Tent Health was founded by Mackenzie Copley (C'15) and David Schaffer, MD (C'14). In addition to Georgetown, student volunteers hail from four local universities — Howard University, American University, George Washington University and the University of Maryland. Three student leaders are selected at each university, and charged with recruiting and training volunteers.
In addition to learning how to administer the screening tests, which involves pricking someone's finger and drawing a small amount of blood, volunteers must also attend a confidentiality training. "The training is a relatively easy and short process," Thomas said.
Gaining Memorable Experiences
After consulting the latest epidemiological report from DC's Department of Health, One Tent Health leaders select locations for their events in the District communities with the highest prevalence of HIV/AIDS, mainly along the city's eastern border and in the area of the city that touches Takoma Park, Maryland.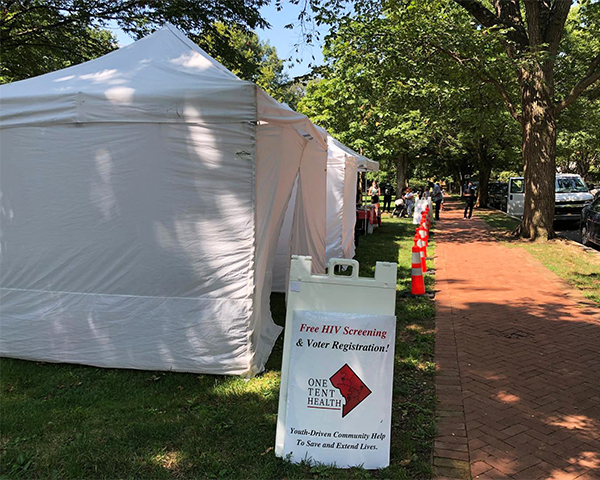 The group avoids setting up their eponymous 10-foot-by-10-foot canvas tent where a local clinic providing HIV testing is already present. The organization also aims to set up in high foot-traffic areas, most often in grocery store and laundromat parking lots.
"I haven't been to the same site twice," said Thomas. "We return to the same areas in high need but set up in different spots."
Thomas recounted a story of one of her recent volunteer experiences on a particularly hot day, when an elderly man passed by the red canvas tent several times over a few hours before entering the tent to get screened.
"He saw us out there the whole day and finally thought 'I might as well get tested,'" she said. "It was a great experience to see our continued efforts could make a difference."
Daniel Zhang, a recent University of Maryland graduate and programs lead at One Tent Health, spoke about the difficult conversation a volunteer might have with a community member whose test reveals they are HIV positive. "Talking to someone about their results is a huge experience that stays with student volunteers," he said.
The HIV screenings take 15 minutes or less and the DC Department of Health provides the HIV rapid test kits to One Tent Health at no cost.
Expanding Services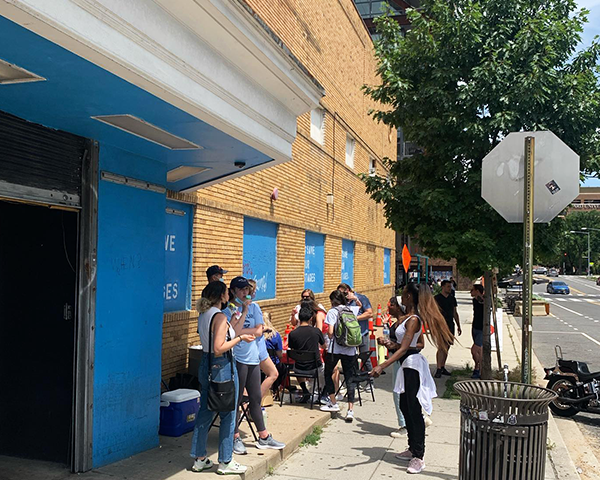 This past fall, One Tent completed 202 HIV screenings as well as 410 COVID tests.
Providing COVID tests in addition to HIV screenings is part of the expanded network of medical services One Tent Health is striving to incorporate into its events. In October, One Tent Health partnered with HOYA Dope to offer fentanyl test strips and naloxone, a medication that reverses an opioid overdose, at an all-day free HIV-screening event.
One Tent Health is also working to provide "linkage of care" by partnering with local community health care providers like Whitman-Walker Health and Mary's Center so community members can get access to pre-exposure prophylaxis (PrEP) for free when needed.
"We even encourage voter registration for community members and can assist with that at our events," added Thomas.
Ongoing Volunteer Recruitment
As head of volunteer recruitment for One Tent Health at Georgetown, Thomas is focused on enlisting 150 new student volunteers by emailing student leadership of like-minded clubs, medical students and faculty.
"Currently, we have about 100 volunteers at Georgetown," said Thomas. "One Tent Health doesn't require a minimum volunteer commitment in terms of time, and I think this flexibility makes it easier for students to help out when they can.
"I kept coming back to volunteer with the organization because it helped me confirm my own aspirations towards medicine as a career and learning about health care disparities from being out in the community," she said.
Thomas and her fellow students from the School of Health will be volunteering next Saturday and Sunday, January 20 and 21, at a location to be determined. Anyone interested in volunteering with One Tent Health should contact Georgetown@onetenthealth.org.
Heather Wilpone-Welborn
GUMC Communications
Top image: One Tent Health volunteers offered COVID testing, HIV screening, links to PrEP and voter registration at an event held outside the 9:30 Club in DC.