NHS Tropaia Ceremony Honors Exceptional Undergraduate Students
(May 23, 2022) — School of Nursing & Health Studies faculty and students gathered to celebrate undergraduate student achievements during the annual Tropaia ceremony.
"Today at Tropaia we celebrate the extraordinary accomplishments of NHS 2022 graduates," said John Monahan, JD (C'83, L'87), NHS interim dean, at the May 20 ceremony in Lohrfink Auditorium. "Congratulations on the hard work and dedication that it took to get to this moment."
'The World Needs Us'
Student speaker Escadar Alemayehu (NHS'22), a global health major, reflected on her cohort's time at NHS during the COVID-19 pandemic. "COVID-19 shed light on inequality in our communities and gave us a renewed sense of purpose to be part of the solution," she said. "The world needs us now more than ever before."
As part of the last graduating class at NHS before the School of Nursing and School of Health are launched in July 2022, Alemayehu expressed her hope that the school will not lose a sense of a caring community as it undergoes a period of transition this summer. "Georgetown teaches you to think critically, but NHS teaches you how to care deeply," she said.
"Before you can begin to change the world, you must care deeply about the people within it," she added.
Recognizing Outstanding Undergraduates
After Jennifer Ericson, assistant dean of academic affairs for the School of Nursing & Health Studies, recognized students graduating with Latin honors as well as honor societies, a faculty member from each department honored one exceptional undergraduate student with a special departmental award.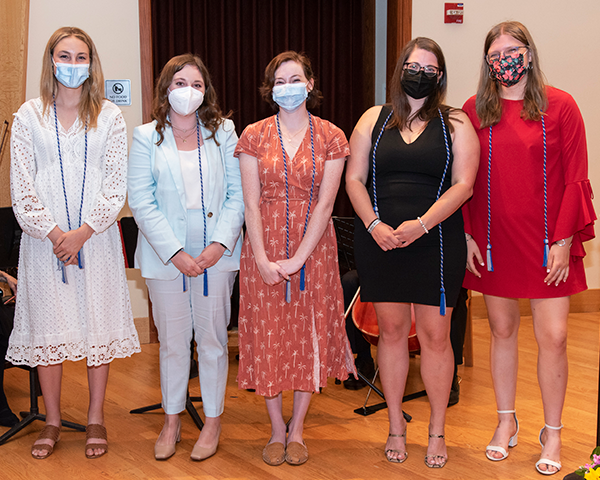 Sara Villanueva (NHS'22), Department of Health Systems Administration
"Sara demonstrated an extraordinary level of service to the university," said Michael Stoto, PhD, professor of health systems administration. "She volunteered at D.C.'s COVID-19 vaccination clinic, was a leader in Georgetown's Emergency Response Medical Service focused on training new student members, and served as chair of the senior class committee."
Julia Alvey (NHS'22), Department of Human Science
Alvey was an NHS peer advisor and received the Provost Undergraduate Research Presentation Award. She will be working at the Mayo Clinic this upcoming year. "She will change the world for the better," said Pablo Irusta, PhD, associate professor and chair of the human science department. "It will be amazing to watch."
Henrike Schmalfuss (NHS'22), Department of International Health
Schmalfuss is founder and president of Georgetown's first disability identity group that sought to increase accommodations and improve equity for its members on campus. She also helped set up HIV testing sites in marginalized communities in Washington, D.C. "She has infinite energy to devote to the common good and a passion for health and inclusion," said Jennifer Bouey, PhD, associate professor and chair of international health.
Katherine Monogue-Rhines (NHS'22), Department of Professional Nursing Practice
"Kate entered Georgetown as a nontraditional transfer student after performing as a choreographer and soloist for five years with the Oregon ballet theater," said Edilma Yearwood, PhD, PMHCNS-BC, FAAN, associate professor and chair of professional nursing practice. "Since arriving at Georgetown, Kate immersed herself in the research process, including presenting her work on the effect of peer-to-peer mentoring program on BSN students at the Undergraduate Research Conference." Monogue-Rhines will assume an RN position in the pediatric care unit at the Dayton Children's Hospital after graduation.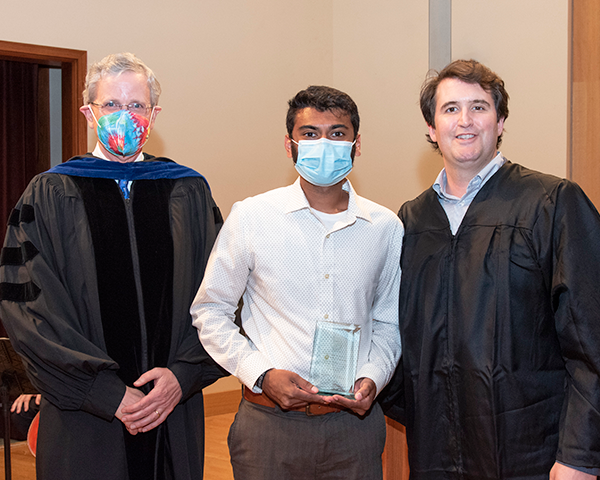 Marianne Cardillo Lyons Commitment to Cura Personalis Award: Arjun Mathur (NHS'22), Human Science Program
Daniel Lyons (C'07, NHS '12) presented the Marianne Cardillo Lyons Commitment to Cura Personalis Award, named for his late mother and a long time associate dean at NHS. The recipient was Arjun Mathur (NHS'22), a human science major. 
"During his time at Georgetown, Arjun Mathur has shown extraordinary commitment to NHS by serving as leader of CURA, Georgetown's preorientation program for students interested in health care, where he undertook the extraordinary task of converting the program into an online format," Lyons said. Mathur is also a Sweeney Scholar, an early assurance program into Georgetown University School of Medicine.
Additional Award Winners
Dean's Medal (awarded to the undergraduate with the highest GPA)
Colby Schmidt (NHS'22)
The Rose Anne McGarrity Service Award
Grace Murray (NHS'22)
The Sister Helen Scarry, RJM, DMin, Award for Commitment to Social Justice
Madison Dyer (NHS'22)
---
Heather Wilpone-Welborn
GUMC Communications