NHS Students Volunteer at Community-Based Organization on Day of Service
(March 25, 2022) — On the School of Nursing & Health Studies Day of Service, student volunteers representing all of the departments at NHS took time out of their busy schedules to support Food & Friends, a community-based organization that provides medically tailored meals for clients in the D.C. region living with HIV/AIDS, cancer and other serious illnesses.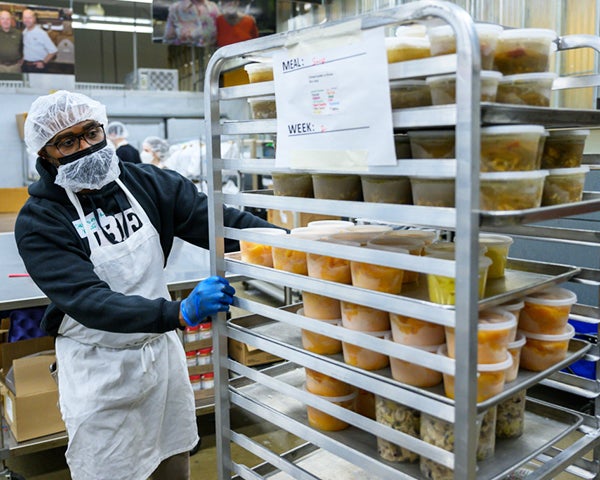 Sixteen students volunteered March 23 in shifts to pack meals and groceries for Food & Friends clients at their headquarters in northeast Washington, D.C. Christopher J. King, PhD, MHSc, FACHE, chair of the Department of Health Systems Administration, and Susan Coleman, MPH, BSN, RN, instructor in the Department of Professional Nursing Practice, joined the students as members of the NHS Committee on Mission and Values (CMV), the activity's sponsor.
"It's really fun to see students working together," Coleman said. "They were so positive, upbeat, happy and helpful!"
"The students just said, 'Why are we just doing this now? When can we come again?'" King said. "We need to take this to another level."
Jay Shepley, Food and Friends communications director, expressed appreciation for King's support of the organization, including thought leadership promoting the importance of medically tailored meals for people in the D.C. area.
"He supports us in a big way," Shepley said. "Through learning how Georgetown University approaches issues, through his example, our work gets better."
Food as Medicine
Food & Friends was founded in 1988 when the leadership at Westminster Presbyterian Church decided to develop a meal delivery program for people with AIDS. From their beginnings in a church basement, the organization has grown exponentially over time, now delivering 100,000 freshly prepared meals per month to clients in D.C., Maryland and Virginia.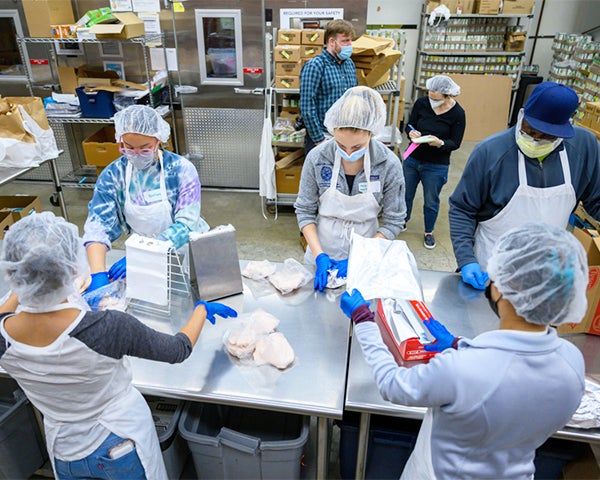 Recognizing that their clients have complex health challenges, Food & Friends provides meals that support a wide range of medical needs. "I told the students, we are here to fill prescriptions, not medicine but food," King said.
That focus resonated with Alice Lei (NHS'22), a nursing major. "Nutrition is super important for patients," she said. "I feel like nutrition is overlooked."
Cindy He (NHS'22) agreed with Lei. "As a student majoring in health care management and policy, I have learned about just how much social determinants, such as access to nutritious foods, influence health outcomes," she said. "Food & Friends addresses this important issue by providing essential nourishment that may be difficult to access otherwise."
As part of the Food Is Medicine Coalition, Food & Friends benefits from and contributes to the latest research on nutrition therapy. "There's a great deal of intentionality in our meals so we can really nourish them," Shepley said. "You cannot get well if you're nutritionally compromised or food insecure."
"I loved seeing the signs 'Food is Medicine' displayed in the beautiful Food & Friends facility," Coleman said. "The message that food is medicine is such an important one for all of our health professions to integrate into knowledge and practice."
Impacted by the Pandemic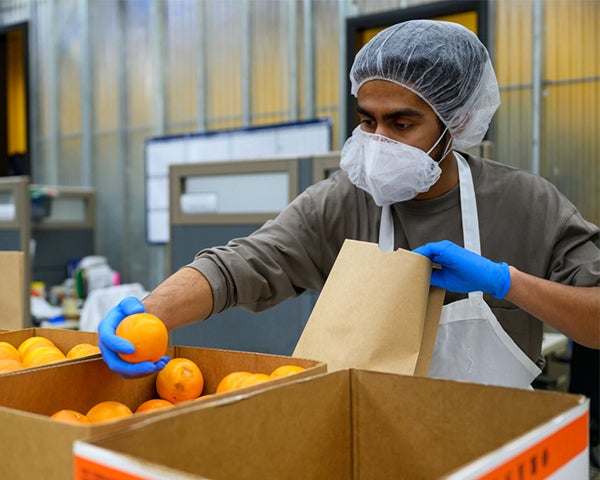 Historically, the CMV has organized service opportunities for students but they were put on hold during the pandemic, Coleman said. At Food & Friends, the number of volunteers dropped to 2,900 from 8,900 before the pandemic.
In the absence of volunteers, Food & Friends staff took over. "When the pandemic first hit, we had staff doing all of this in shifts," said Charles Battle, manager of the grocery-to-go program. "The great thing about this place is, everyone chips in."
"The mission is number one," Shepley said. "We have to get meals out the door."
Nihal Nagesh (NHS'24), a second-year human science major, was excited about having the opportunity to help Food & Friends with their mission. "I just wanted to help out in any way possible," he said. "I'm actually making an impact here, I felt."
Compassion for Clients
Early on in Food & Friends' history, staff members learned that clients were sharing their food with children in the household. As a result, Food & Friends started serving the client's dependents and caregivers.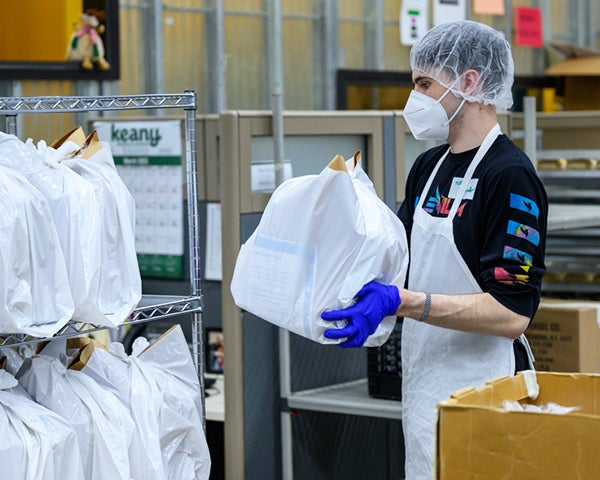 "It's really amazing to think how helpful that's been for families," Shepley said. "I couldn't imagine if I was sick and I couldn't cook for my son, but we could still enjoy meals together."
Volunteers also prepare special feasts for clients for Thanksgiving and medically tailored cakes for their birthdays. "It's little touches that show how we center compassion," Shepley added.
The ability to volunteer with an organization that focuses on the whole patient appealed to Divinna Boyd (NHS'25), a global health major. "I think what interested me about this [is], Georgetown is about caring for the whole person and this is caring for the whole person," she said. "I feel like this is a chance to actually give back to people."
Kat Zambon
GUMC Communications