NHS Sophomore Named 2022 Goldwater Scholar
(March 28, 2022) — Nadia Sadanandan (NHS'24), a sophomore in the School of Nursing & Health Studies majoring in human science, has been named a 2022 Goldwater Scholar.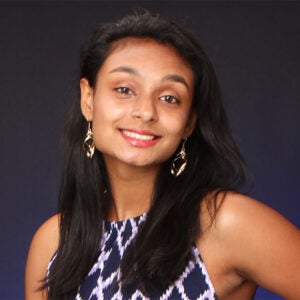 "I aspire to be a physician-scientist, conducting research in the development of targeted therapeutics for pediatric cancer based on tumor biology, while also practicing as a pediatric oncologist at an academic research hospital," said Sadanandan.
The prestigious national scholarship — given to students who excel in mathematics, engineering and the natural sciences — seeks to identify and support college sophomores and juniors who show exceptional promise of becoming the next generation of research leaders in these fields.
Immune System Research
A Tampa native minoring in environmental studies, Sadanandan conducts research in the lab of Eric Glasgow, PhD, assistant professor of oncology at Georgetown Lombardi Comprehensive Cancer Center. Glasgow works with zebrafish to investigate cancer cell behavior, tumor biology, and neural development.
Sadanandan is evaluating the effect of the innate immune system on tumor behavior in the zebrafish xenograft.
"I plan to pursue an honors thesis investigating the impact of the innate immune system, specifically tumor associated macrophages and the cytokines they secrete, on the growth and metastasis of pediatric brain cancer," Sadanandan said. She is lead author of seven of 26 co-authored peer-reviewed journal publications.
Exceptional Faculty Mentorship
Sadanandan's selection brings to four the number of Georgetown students selected for the 2022 class, the first time since 2006 that more than one Georgetown scholar has been named. Additional 2022 Goldwater Scholars from Georgetown include Aryaman Arora (C'24), Adrian Kalaw (C'23), and Dominic Pham (C'23).
"This is a testament to the high quality of the students' work and the exceptional faculty mentorship that occurs on this campus," said Lauren Tuckley, director of Georgetown's Center for Research and Fellowships. Sadanandan named Glasgow and Jason U. Tilan, PhD, associate professor in the Department of Human Science, as her mentors.
"From my interactions with Nadia, I am most impressed by the authenticity with which she approaches science and learning in general," said Tilan. "The sincerity of her intellectual curiosity is inspiring and reaffirming to me as a scientist and educator."
Glasgow will continue to mentor her in his lab during her junior and senior years as she pursues her "ambitious" experiments.
"Nadia is an exceptionally bright and motivated student," Glasgow wrote in his recommendation letter. "She has a fantastic track record of publications and obvious potential to develop into a great physician-scientist."
The Barry Goldwater Scholarship and Excellence in Education Foundation was established by Congress in 1986 to serve as a living memorial to honor the lifetime work of Sen. Barry Goldwater, who served his country for 56 years as a soldier and statesman, including 30 years in the U.S. Senate.