Human Science Senior Focuses on Research, Working with Underserved Communities
December 4, 2018 – Human science senior Jonathan Picos (NHS'19) is planning a career as a physician. His interests in research and community service have been nurtured at Georgetown, particularly through participation in the Translational Health Science Internship and his co-leadership of the pre-orientation program CURA.
Question: Where are you from originally? And how did you learn about Georgetown?
Picos: My family is originally from Mexico, and we've lived in San Diego, California, all my life. I remember receiving a Georgetown shirt as a gift during high school, and then I decided to apply after learning about the NHS.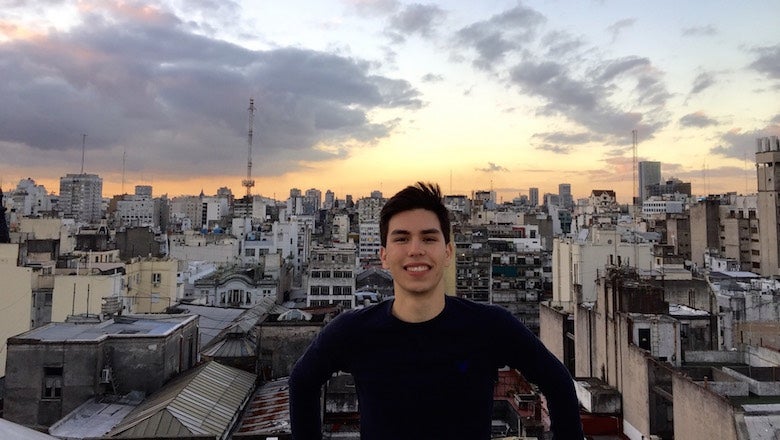 Question: How have you enjoyed Georgetown and the human science major?
Picos: Georgetown has contributed so much to the person I am today. It truly is a place that brings out the best in you and inspires you to discern how you can contribute to the common good in the future. Georgetown surrounds you with passionate people that make every day a learning experience, and I'm grateful for the friendships I've made in this spirit.
I couldn't imagine my college experience without the human science major. Human science has given me community, support, and an academic curriculum tailored to my interests in science and health care. The dynamic and challenging nature of the major lends itself to immense learning from our professors and from each other. The relationships that I've developed with professors, staff, and peers make human science unique and have made the experience incredible.
Question: Tell us a little bit about what your involvement in the Translational Health Science Internship.
Picos: I went abroad to Buenos Aires, Argentina, during summer 2017. The Translational Health Science Internship is a six-week program that allows you to immerse yourself in a foreign health care system through clinical shadowing in pediatric hospitals and community health centers. Additionally, you work in conjunction with Argentine researchers and physicians to study pediatric viral respiratory diseases. The program culminates in a research project that combines laboratory work and clinical experience.
Exploring and eating your way through Argentina with some good friends is also pretty cool, too.  
Question: How did you get involved in CURA? And how have you enjoyed that experience?
Picos: During my sophomore year, I applied to be a leader for a new pre-orientation program not knowing that it would be the best decision I would make during my time at Georgetown. CURA is a program for incoming first-years that focuses on the intersection between social justice and health care through the lens of Georgetown's Jesuit values. The community that is built during this program is indescribable, and I truly enjoyed the discernment of how we can enact our passions for health care and focus them towards the service of others.
I became a coordinator for the program during my junior year and oversaw the program in the summer with my co-coordinator, Vanessa Lim (NHS'19). This program exists to develop lifelong advocates for the most marginalized in our communities and embodies the heart of the NHS and Georgetown.
CURA has enriched my life in so many ways. I have made some of my best friends in this program and have grown as a leader and mentor. I'm eternally grateful to all students that have participated and my advisor, Professor Joan Riley, for their support.
Question: What are your plans for the future?
Picos: My plans are to attend medical school for a future career as a physician. Before that, I hope to take a gap year to immerse myself in vulnerable communities with a service organization, allowing me to develop and implement health-focused interventions.