Graduate Students Visit South American Health Care Facilities as Part of Global Experience
Pictured above (l to r): Nooralhuda Arkan (G'24), Ayomide Aduloju (G'24), Jayla Romain (G'24), and Alyssa Dobiyanski (G'24), visit Iguaçu Falls in Foz do Iguaçu, Brazil.
(March 30, 2023) — Graduate students in the Masters of Health Systems Administration (MHSA) program recently journeyed to Brazil, Argentina and Paraguay to learn about the varying levels of national health care resources across public and private health care facilities as part of an experiential learning opportunity at the School of Health.
"The annual MHSA global experience is an opportunity for our graduate students to meet with health system leaders and to visit health care facilities in other countries to broaden the international perspectives of our emerging student leaders," says Ryung Suh, MD, associate professor of health management and policy, who led the March 12 – 17 trip.
Sharing Professional Experiences
Nooralhuda Arkan (G'24), Ayomide Aduloju (G'24), Jayla Romain (G'24) and Alyssa Dobiyanski (G'24), all in the first of their two-year program, were hosted by Centro Universitário Dinâmica Das Cataratas (UDC) in Foz do Iguaçu, a city in the southern part of Brazil that borders Argentina and Paraguay.
Faculty from UDC gave lectures about the Brazilian health care system and experiences with border medicine. The Georgetown students shared insights on health care entrepreneurship and on managing health professional well-being and preventing burnout.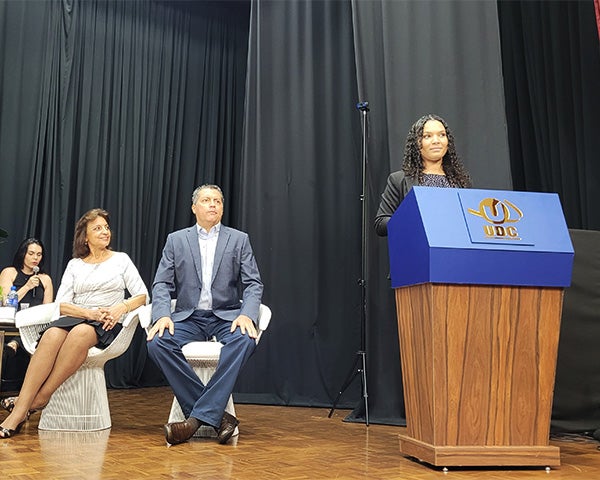 In a talk to UDC students and faculty, Romain shared some of her experiences as a young professional and nurse in the U.S. health care system, including burnout.
"I really wanted to emphasize that both of our countries still struggle to find the answers to a lot of our problems and that working together to find solutions will help us attain our goals in the future, whether it's in health care, education, politics, etc.," Romain said.
Dobiyanski, who works as an inpatient physical therapist, said she relates to the challenges faced by Romain in the post-pandemic hospital workforce. She joined Romain on a panel to field questions from UDC students who were "eager to learn about our education, experience and health care system."
Valuable Global Experience
Dobiyanski described the visit as an "incredible global learning experience." She said, "It provides students the opportunity to experience other cultures, health care systems and how an international experience affects an administrator's perspective on navigating the health care system," including considerable insight into the international public-private partnerships.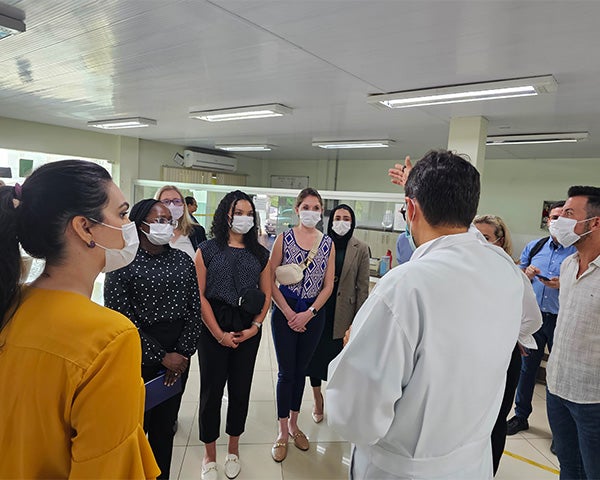 One of the facilities visited in Foz do Iguaçu sits on Brazil's border with Argentina and Paraguay.
"We were able to examine their relationships with these countries and the important role they play in providing care for not only Brazilians and Brazil's tourists, but also the Argentinians and Paraguayans that cross the border in search of health care," Romain said.
"All of our graduate students learned a tremendous amount, established global connections and strengthened lifelong friendships," Suh said.
When not in lectures or on official visits, the students experienced Iguaçu Falls, enjoyed local cuisine and attended a traditional dance show.
"Brazil was such an amazing experience, and I'm so thankful to Georgetown and the opportunities that they provide for this incredible global learning experience," says Dobiyanski.
More Highlights from the MHSA Global Experience