Georgetown University School of Health 2023 Commencement Speaker: Camara Phyllis Jones, M.D., M.P.H., Ph.D.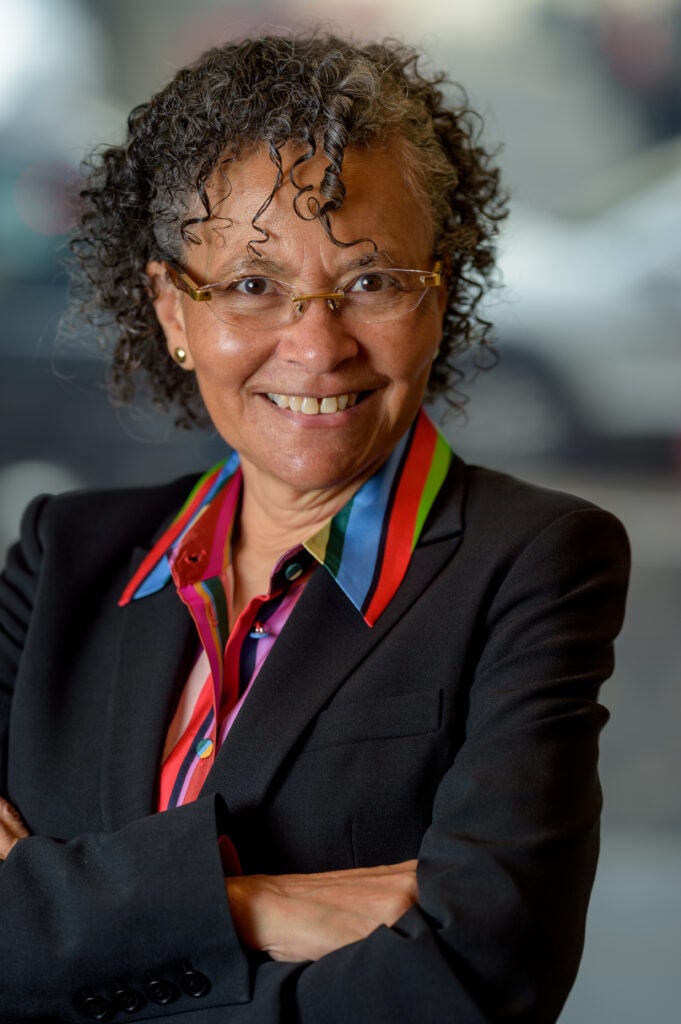 (May 3, 2023) — Georgetown University School of Health is honored to welcome Camara Phyllis Jones, M.D., M.P.H., Ph.D., a family physician and epidemiologist, who has become a global role model for her groundbreaking work to connect the study of health to the eradication of racism, as its commencement speaker for the graduating Class of 2023. In recognition of her efforts to eliminate hatred and to inspire a healthy and healed society, Georgetown University will bestow upon Jones, the degree of Doctor of Science, Honoris Causa.
Dr. Jones taught for six years at the Harvard School of Public Health and served fourteen years at the US Centers for Disease Control and Prevention. She is a past Evelyn Green Davis Fellow at the Radcliffe Institute for Advanced Study at Harvard University; Presidential Visiting Fellow at the Yale School of Medicine; and Presidential Chair at the University of California, San Francisco. She is currently a Leverhulme Visiting Professor in Global Health and Social Medicine at King's College London, as well as an adjunct professor at the Rollins School of Public Health at Emory University, and a Senior Fellow and Adjunct Associate Professor at the Morehouse School of Medicine. She is truly someone at home in the world, a world she is working to transform.
As the President of the American Public Health Association, she launched a National Campaign Against Racism aimed to inspire and equip all communities to engage in sustained anti-racism work. That campaign focused on three vital and interconnected tasks: to name racism; to ask "how is racism operating here?," and to organize and strategize to act. Her work catalyzed what are now more than 260 declarations by local jurisdictions across 41 states and the District of Columbia recognizing that "racism is a public health crisis."
Her steady goal has been to empower people to take action to reduce racism and its impact on health. She has argued that racial constructs color our imaginations of who we are. But race, we must always recognize, is a social classification not a biological descriptor. Racism structures, she argues, "Open/Closed" signs in our society. Instead we must rethink life, in her image, as a "conveyor belt," moving all of us, and society itself, to action.

Her efforts have been recognized by election to membership in the National Academy of Medicine, one of the highest honors in the fields of health and medicine. She has also been chosen for membership in the American Academy of Arts and Sciences which recognizes excellence and leadership across disciplines. Her additional numerous awards, too numerous to list even in a long citation, include: in 2022 the Stanford University President's Award for the Advancement of the Common Good for her profound empathy, tireless dedication, and extraordinary leadership in a lifetime of research and advocacy; in 2011 the John Snow Award from the Epidemiology Section of the American Public Health Association in recognition of enduring contributions to public health through epidemiologic methods and practice; and in 2018 her Alma Mater, Wellesley College, bestowed the Wellesley Alumnae Achievement Award, Wellesley's highest honor for alumnae who have brought honor to themselves and to Wellesley College through their outstanding achievement.
Dr. Jones's dedication to a career of distinguished leadership chimes with Georgetown's own institutional aims, inspiring our community to advance the collective work to combat racism and achieve health equity. She embodies Georgetown University School of Health's ideal of a person for others, working on what Pope Francis has called "the barricades," to prepare health care leaders whose formation has occurred within a values-based paradigm.