For Research Practicum in Tanzania, Global Health Senior Focuses on Malaria-Related Project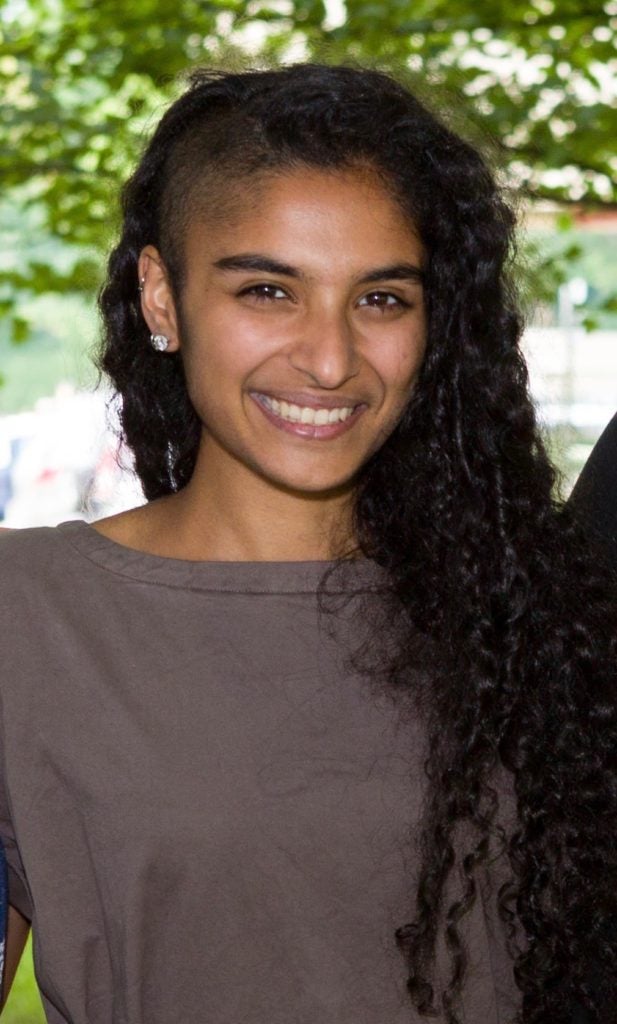 September 16, 2019 – Tara Mathias-Prabhu (NHS'20) is in Tanzania as a part of the Department of International Health's 12-credit research practicum abroad for senior global health majors. "I'd always dreamed of visiting Tanzania, and now, thanks to Georgetown, I get to live out that dream for the next 3 months," says Mathias-Prabhu, who is working on a malaria-related project at the National Institute for Medical Research.
Question: Where did you grow up, and how did you discover Georgetown?
Mathias-Prabhu: I grew up in a small town in New Jersey. I discovered Georgetown through Georgetown's admissions visit to my high school. While trying to figure out what school to apply to within Georgetown, I found NHS social media and saw pictures of the global health seniors hiking Mount Kilimanjaro during their practical experience abroad. I'd always dreamed of visiting Tanzania, and now, thanks to Georgetown, I get to live out that dream for the next 3 months.
Question: What are you working on this semester in Tanzania?
Mathias-Prabhu: For my research, I will be investigating the prevalence of mutations in an enzyme called DHPS, which is a target for the antimalarial drug sulfadoxine/pyrimethamine (SP). The mutations serve as biomarkers for drug resistance to SP treatment, often used for malaria prevention in pregnant women and young children. I'll get to analyze samples in the lab, while also conducting statistical/epidemiological analysis, allowing me to combine my interests in basic science and global health. 
Question: How have you enjoyed Georgetown and the global health major?
Mathias-Prabhu: I've loved Georgetown and the global health major so far because I think they've given me an unparalleled, two-fold education in both social justice and practical knowledge. On one hand, the global health major has given me the language and the frameworks to discuss and understand emerging public health issues, access to an incredible faculty with a lifetime of field experience, and the opportunity to apply technical skills learned in the classroom in my own practical experience abroad. On the other hand, Georgetown as an institution has cultivated my community-based approach to problem-solving and has continued to foster my passion for creating positive social change. Together, Georgetown and the global health major have shaped me as both an individual and as a young professional, and I'm forever grateful for my time here.
Question: Tell us a little bit about your time at Georgetown, including your activities.
Mathias-Prabhu: At Georgetown, I've been a part of a few programs within the Center for Social Justice, including Young Diplomats of Seaton Elementary, which tutors elementary school children in a foreign language of their choice, and the Georgetown After School Kids Program, which mentors adjudicated teens and young adults. I've been on the Club Rock Climbing Team; hosted a radio show on Georgetown Radio for a few semesters; been a biological chemistry TA, lab assistant, and research assistant at Lombardi Comprehensive Cancer Center; participated in Public Health Brigades to Honduras; and have been the NJ State Chair for the Georgetown Admissions Ambassador Program.
Question: What are you thinking about after Georgetown?
Mathias-Prabhu: This is the ultimate question! I can't believe my time at Georgetown is almost over, but I'm hoping to pursue a career in women's health, potentially through a combination of primary care medicine and public health. My dream is to open a comprehensive health center, with the aim of improving access and providing affordable, if not free, health care to women and families.