Association of University Programs in Health Administration Awards Scholarships to Two MSHA Students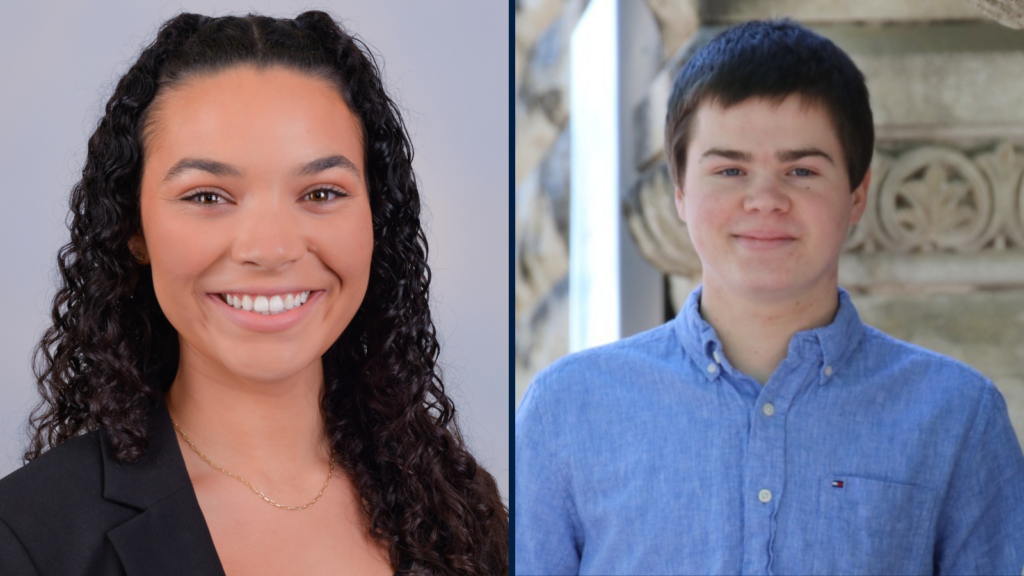 (May 15, 2023) — Jayla Romain and Micah Kinser, Master of Science in Health Systems Administration (MHSA) '24 students in the School of Health, have received this year's Foster G. McGaw Scholarship at Georgetown from the Association of University Programs in Health Administration (AUPHA). The Foster G. McGaw Scholarship is given to outstanding health care management students, and Romain and Kinser were recommended by MHSA faculty. 
"I am so grateful to be selected for the Foster G. McGaw Scholarship from AUPHA," says scholarship recipient Romain (H'24). "I am extremely passionate about bedside nursing and hope to make our health care system a better place for both nurses and patients. After this program, I hope to use my skills and experience as a bedside nurse, and the knowledge and leadership skills I've gained from the MHSA program, to make a bigger impact on our health care system and patient care."
Micah Kinser (H'24), a junior in the School of Health, said he hopes to be involved at the highest level of hospital administration to focus on quality healthcare delivery. "This is where I want to be able to make an impact and change lives by involving value-based healthcare as a priority, focusing on high quality healthcare delivery to patients," he said. "With an MHSA degree, I will be able to further enhance my skills of servant leadership along with healthcare business, operations, and finance to be an efficacious healthcare administrator. Georgetown University's MHSA program is giving its students these skills and more to be the leaders of tomorrow; and equipping them with the expertise to not only help the system, but to change the system for the better."
The AUPHA is a global network of colleges, universities, faculty, individuals and organizations dedicated to the improvement of health and health care delivery through excellence in health care management and policy education. Foster G. McGaw was the founder of the American Hospital Supply Corporation and honored for recognizing the importance of health administration education and AUPHA's contribution to the field.