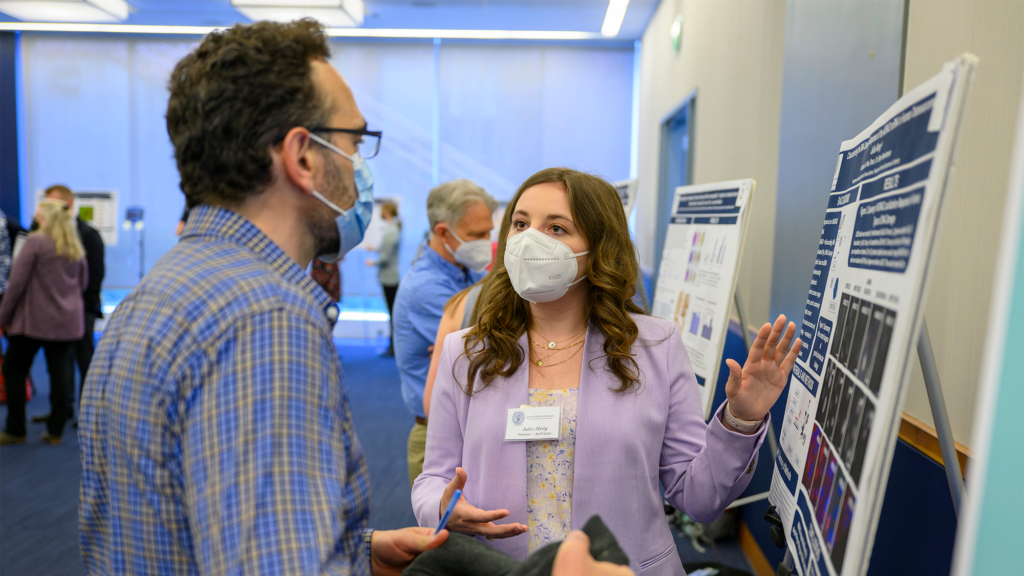 About
The honors program in human science recognizes those students pursuing a high level of independent discovery research (laboratory, archival, community, epidemiological) during their undergraduate years, culminating in a senior undergraduate thesis as they complete their Human Science major course of study.
The purpose of this program is to permit students of high academic achievement to enjoy greater responsibility and initiative in their major work. The honors program in Human Science requires a significant mentored research experience in a topic of the student's choosing.
Graduating with Honors in Human Science requires completion of the Human Science curriculum with the addition of a senior thesis. Students who complete an acceptable Honors Thesis and all other requirements for the Human Science major will graduate with a B.S in Human Science with Honors.
Eligibility for Human Science Honors
Full-time human science students with at least a 3.0 science GPA at the end of their first year may apply.
How to Apply
Application Requirements
Prior to completing an application, the student should identify a thesis mentor. If a student chooses to work with someone other than one of the Human Science faculty mentors, then the student must determine a Human Science faculty member who will serve as the co-mentor for the thesis.
The application from the student to the Human Science Faculty will include:
A completed application page, indicating support by thesis mentor(s). If the primary mentor is outside of the department, a letter demonstrating support of the work is recommended.
A description of the idea and general methodology of the proposed thesis work.
A proposed curriculum plan including Independent Research for at least one term (minimum of 3 credits, but not to exceed 9 credits) pertaining to their thesis project prior to their senior year and the final Honors Thesis class.
The proposal should include an extensive literature review of the topic (introduction/background), hypothesis, a research plan to answer the hypothesis, a bibliography list inclusive of current literature (at least 10, more is preferred), and the time frame in which the project will be completed.
Students should submit proposals to the Chair of the Human Science department.
Note: An honors proposal being submitted by a rising senior for the first time is due no later than August 15 prior to his/her senior year. A rising senior who wishes to do a thesis must have completed substantial work before the department will consider the application. The proposal will be considered and voted upon during the first faculty meeting of the academic year. All other (non-rising senior) students may submit their honors proposal at any time during the year, which will be considered by the faculty at the next regularly scheduled faculty meeting.
Approval for Human Science Honors
The Chair will circulate the application to the Human Science Faculty, who will vote on the proposal.
Human Science Honors Curriculum
Human Science Honors students will meet all Human Science major curriculum requirements in addition to the research course sequence. A student working on an Honors project will enroll in a minimum of three (but no more than nine) credit hours of Independent Study research course pertaining to their thesis project prior to their senior year. Enrollment in Honors Thesis (HSCI-370) the final term of the project is also required.
Proposed Timetable of Activities
2nd year
Student will initiate research with approval of the student's Honors mentor.
2nd or 3rd year
Student will build the idea for the thesis topic and formulate a question/hypothesis to study.
Enrollment in Independent Study with Honors research mentor. A thorough review of the literature is suggested.
4th year
Complete research project and thesis:

Fall semester: Weekly updates/progress reports to mentor; establish committee members
December: Update meeting with committee members to include summary of results
December 20: Under special circumstances, oral defense of thesis may be scheduled for final exam week with input of mentor and committee. However, this decision must be communicated to Academic Affairs by this date.
January 1-February 28: Develop, expand and revise draft of thesis
February 28: Initial thesis draft due to thesis mentor. Schedule oral defense with mentor and committee; oral defense must take place on or before last day of classes.
March 31: A complete thesis draft due to thesis mentor and committee members
April-May: Public defense of thesis (Note: Students and mentors may agree to defend in the beginning of final exam week, but only if approved by Academic Affairs (see deadline above). Thesis must be distributed to Human Science faculty one week prior to oral defense
May: Completed thesis (i.e. after incorporation of changes suggested in public defense) due to Department the Friday before grades for graduating seniors are due.
Note: Students who fail to adhere to the deadlines indicated above may jeopardize their ability earn a "Pass" for their work.
Guidelines for Preparing a Written Thesis
The final thesis product will have a limit of 6,000 words, not counting references, figures, figure legends, abbreviations page, or tables.
The paper must be double-spaced, 12-point font and 1" margins.
The final thesis product should be formatted according to the standards of a scientific thesis as outlined here:

Title page: title, author, contact information, 3-6 key words, and word count
Abstract page: limit to 250 words
Abbreviations page (if applicable)
Introduction
Methods
Results
Discussion
Acknowledgements
References (at least 15, inclusive of current literature)

Tables: Embed table in appropriate location within text, or at the end of the document. Include table legends on top of table.
Figures: Embed figures in appropriate locations within text or at the end of the document. Include figure legends with figures.
References and citation formatting should conform to guidelines of a journal of choice of the thesis mentor and punctuated consistently throughout the thesis document.
Course Description
HSCI-370 – Honors Thesis
Spring of Senior year only
During their last semester of the senior year, students in the honors program bring their research projects to conclusion, complete the written thesis for the faculty committee and make an oral presentation of the results to a seminar group of faculty and students. The student will be encouraged to submit the thesis for publication
in a peer-reviewed journal.
Credits: 0
Prerequisites: A minimum of one (1) Independent Study Research of at least three credits
Past Honors in Human Science Senior Theses